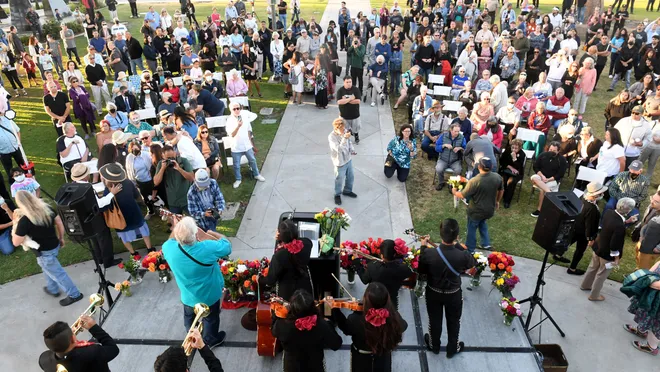 Kathleen Wilson | Ventura County Star
Carmen Ramirez, Ventura County's first Latina Supervisor and a longtime activist, died Friday night after being hit by a truck as she reportedly walked to a concert in downtown Oxnard's Heritage Square.
An Oxnard resident and attorney, Ramirez served 10 years on the Oxnard City Council before her successful bid for the Ventura County Board of Supervisors District 5 seat.
A little less than two years ago in November 2020, she became the first Latina in county history to be elected supervisor. She followed up that achievement this year by becoming the first Latina to be elected by her fellow board members as chairwoman of the powerful board.
"We were all blessed to have known her, blessed to have been her friend," said Supervisor Linda Parks.
Ramirez's death is a great loss not only for those close to her but the county, said Barbara Macri-Ortiz, who has known Ramirez since 1990 when she began working with her as a legal aid attorney.
"She has done a remarkable job in terms of the county having a compass, a much stronger moral compass," she said.
Macri-Ortiz cited the hiring of Sevet Johnson as the first African-American county executive earlier this month as an example of Ramirez's influence.
Ramirez helped large numbers of poor people through the years and took care of her siblings and nieces and nephews, Macri-Ortiz said.
She recalled Ramirez as caring but also strong and effective.
"She has a way about her where she can get things done and steer or move people to her positions on community issues," she said. "The personal loss is huge, but the loss to the county is so great because Carmen was moving our county into the 21st century."
Ramirez is survived by her husband, Roy Prince, and two stepsons. She was predeceased by her brother Ricardo Ramirez who died from COVID-19 in 2021.
Crash near Heritage Square
The crash occurred about 6:45 p.m. at Seventh and A streets in downtown Oxnard. Police Chief Jason Benites said the driver of the vehicle remained at the scene and was cooperative.
Ramirez, 73, was transported to Ventura County Medical Center in Ventura where she was pronounced dead at 7:17 p.m., the chief said.
The initial investigation determined that a large truck, driven by a 38-year-old man, was traveling westbound on Seventh Street toward A Street. Ramirez, who was reported to be crossing the intersection within the crosswalk, was struck by the vehicle.
Antonio Delgado, who owns the Four Elements Crystal Shop at the corner of Seventh and A, stood at the intersection with a stick of ceremonial incense Saturday afternoon.
He had been in the shop Friday evening and heard the impact, which he initially thought was a car accident.
Delgado and others said Ramirez had parked her Prius on the north side of Seventh Street. She had been walking southbound across Seventh, in the west intersection, to attend a Friday night concert at Heritage Square.
The truck, traveling westbound, had struck her, they said.
Orange police markings could be seen in the roadway.
Delgado and others came rushing to the crash site after flagging down a nearby police officer, not knowing for a time who had been struck. Witnesses said a doctor who had been at Heritage Square came and felt for a pulse before paramedics arrived.
Oxnard Police Cmdr. Luis McArthur was unable to confirm details of the incident as of midafternoon Saturday, but said he expected the chief to issue a statement with more information later in the day.
From Oklahoma to Oxnard
She was born Maria Carmen Ramirez in Oklahoma to a Mexican-American father and a mother of Swedish, Irish and English descent. Her late father, a sixth-generation Californian, served in the Army in World War II and was stationed in Oklahoma when she was born, according to news reports.
She grew up in Pico Rivera in Los Angeles County. Ramirez attended the University of San Francisco and CSU Los Angeles for before heading to Loyola Law School.
Ramirez was admitted to the California Bar Association in December 1974 and started working in Oxnard in 1978 where she would become coordinator of Self-Help Legal Access Center's Colonia office. She also served as president of the Ventura County Bar Association in 1998.
Over the years, she worked on others' political campaigns but a successful legal effort in 2007 to oppose a liquified natural gas terminal on the coast spurred her own involvement in local politics. She was first elected to the Oxnard City Council in 2010 and was elected to her supervisorial seat in 2020.
An effective leader
Locals grew to know Ramirez for her efforts to prevent industrialization of the coast, slow climate change, support disadvantaged communities and advocate for the transition from fossil fuels to renewable energy.
She was a particularly effective leader in the fight to stop the industrialization of the coast in areas where disadvantaged communities were most heavily impacted, former county Supervisor Steve Bennett said.
Ramirez was both committed to figuring out the ethical thing to do with complicated public policy and "extremely skilled" at persuading other people to carry it out, said Bennett, a fellow environmentalist who is now a state assemblyman.
Ramirez could be fiercely angry and focused on an issue and yet speak calmly and quietly, he said.
"That was also an effective thing about her," he said.
She was also a formidable candidate, winning election to the Board of Supervisors despite heavy spending by the oil industry to defeat her.
"Carmen was a quiet leader," said Tim Allison, a political science professor at CSU Channel Islands.
"She did as much stuff behind the scenes as in front of the issues," he said. "She was a bridge builder."
Her death attracted attention in Ventura County and beyond.
She was "an unwavering voice in the fight against climate change that uplifted the voices of working people," said Rusty Hicks, chairman of the California Democratic Party.
Her colleagues, some of whom gathered at the hospital, praised her service Friday night. Others took to social media to express their condolences.
Johnson, the interim county executive officer, described Ramirez as "passionate" and "hard working," calling her a huge advocate on climate issues as well as on behalf of her community and underserved populations.
"She was a powerhouse," Johnson said.
Oxnard Mayor John Zaragoza called the crash that led to her death "a tragic, tragic accident."
"It is just absolutely devastating to the community," he said. " We're going to miss her tremendously."
Former Oxnard Mayor Tim Flynn said he was shocked to learn of Ramirez's death. The two worked together closely on the City Council for 10 years.
"She was really the conscience of the City Council," he said.
Flynn said Ramirez put other people's interests before her own, a quality she shared with his late father John Flynn, the former county supervisor.
On social media, a who's who of the area's politicians and civic leaders expressed their shock, sadness and condolences for Ramirez.
"Tonight, our community mourns the life and legacy of one of its most loved and admired citizens, Carmen Ramirez," wrote Congresswoman Julia Brownley, D-Westlake Village. "Carmen was my friend, and I cannot put into words what this loss means to the many people who were fortunate to know her. My heart is broken."
A candlelight vigil is planned for 7 p.m. Saturday at Plaza Park in Oxnard.
'Thanks for everything'
By midday Saturday, mourners had placed flowers, signs and candles on a grassy section of sidewalk at the intersection.
"You are everything our community needed!" one handwritten sign read.
"R.I.P. Carmen," read another. "Thanks for everything."
A steady stream of visitors came by, many dropping off flowers or mementos and standing for a time to reflect.
Some had worked with her for decades on issues Ramirez fiercely advocated for, including the rights and welfare of farmworkers, the homeless, immigrants and others.
Among them was Pete R. Placencia, who said he'd known Ramirez for about 40 years.
"She's like an icon," he said, adding they were both activists who had been raised in East Los Angeles.
The city's former housing director, Arturo Casillas, said he'd also known Ramirez about 40 years. He came to the site to better understand what had happened.
"I can't really describe it with words," Casillas said of the loss. "I'm trying to wrap my brain around it."
Resident Ramona Franklin said she had come by to pay her respects. Franklin had served Ramirez a hamburger at a Carriage Square event just a week earlier.
Franklin said she'd thanked Ramirez for her work on behalf of the community.
"I love your fight," she recalled saying.
Ramirez had smiled, Franklin said, tearing up as she remembered the moment as "so sweet."
This story was originally published by the Ventura County Star on August 14, 2022.