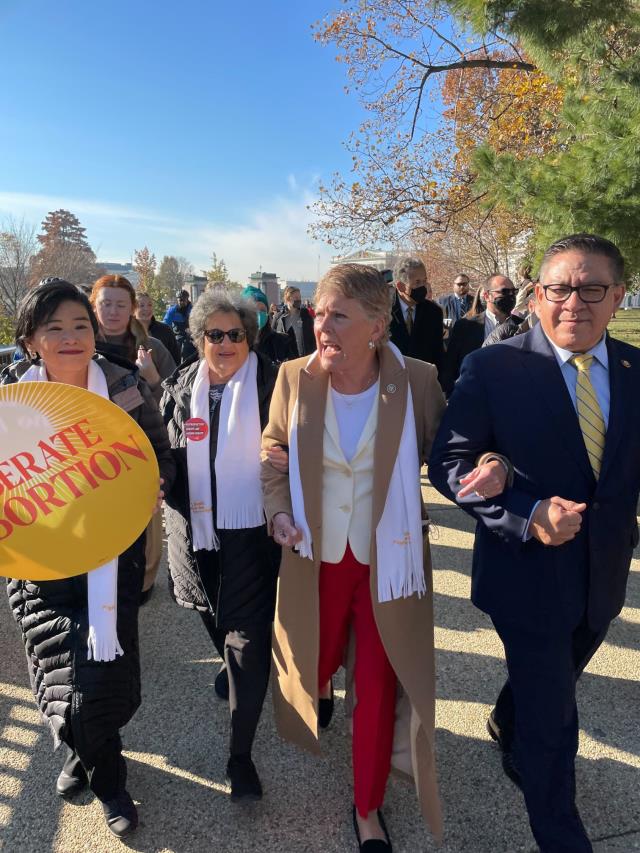 Alex Wilson | Ventura County Reporter
"The rights of women have been trampled on"
A lot has changed since the first time Shane Meserve helped organize a march protesting threats to abortion rights and other issues affecting women during January of 2017.
Meserve is Board President of Justice for All Ventura County, a charity affiliated with the National Women's March that drew an estimated 470,000 people to Washington D.C. the day after President Donald Trump took office. Trump is no longer president, but the three U.S. Supreme Court justices he appointed were critical in overturning Roe v. Wade last year, the landmark 1973 ruling legalizing abortion nationwide.
Following a Jan. 21 rally at Ventura's Plaza Park and a march through Downtown Ventura, Meserve told the Ventura County Reporter that they had hoped to celebrate the 50th anniversary of Roe v. Wade this year, and the ruling overturning it shows their fight is far from over.
"The issues certainly have changed. You know, the state of California has strengthened abortion rights here in our state," Meserve said. "California is certainly impacted by people coming from other states to receive reproductive rights and reproductive services. So we know that that's coming."
She noted that the crowd at the Ventura rally looked considerably smaller than in previous years. "One reason could be that people are a little bit more apathetic or they think things are taken care of now because there's a Democrat in the White House." Meserve also mentioned the possibility that some people are still concerned about catching COVID in large crowds.
About 300 people participated in the march, which traveled westbound down Santa Clara Street, through Figueroa Plaza past Mission San Buenaventura, and then eastbound back up Main Street to return to Plaza Park. Speakers at the rally included Democratic congressmembers Julia Brownley and Salud Carbajal, who now represents Ventura and Ojai following the recent redistricting.
Carbajal told the crowd that the overturning of Roe v. Wade is not the end of the battle but a new beginning. "The rights of women have been trampled on by our right-leaning Supreme Court. We need to do for our nation what we have done for the state of California, enshrine women's rights to reproductive freedom."
Brownley told the crowd that abortion opponents held a rally in Washington D.C. the previous day with a goal of a national ban on abortion. "We are not going to give up. We are going to make good trouble and we are going to win this fight," Brownley said. "I believe soon that the U.S. Supreme Court will rue the day that they ever made this decision, because we are going to make sure that our protections and our rights are even stronger and written into the United States Constitution."
This story was originally published by Ventura County Reporter on January 26, 2023.
Issues: 118th Congress, Healthcare