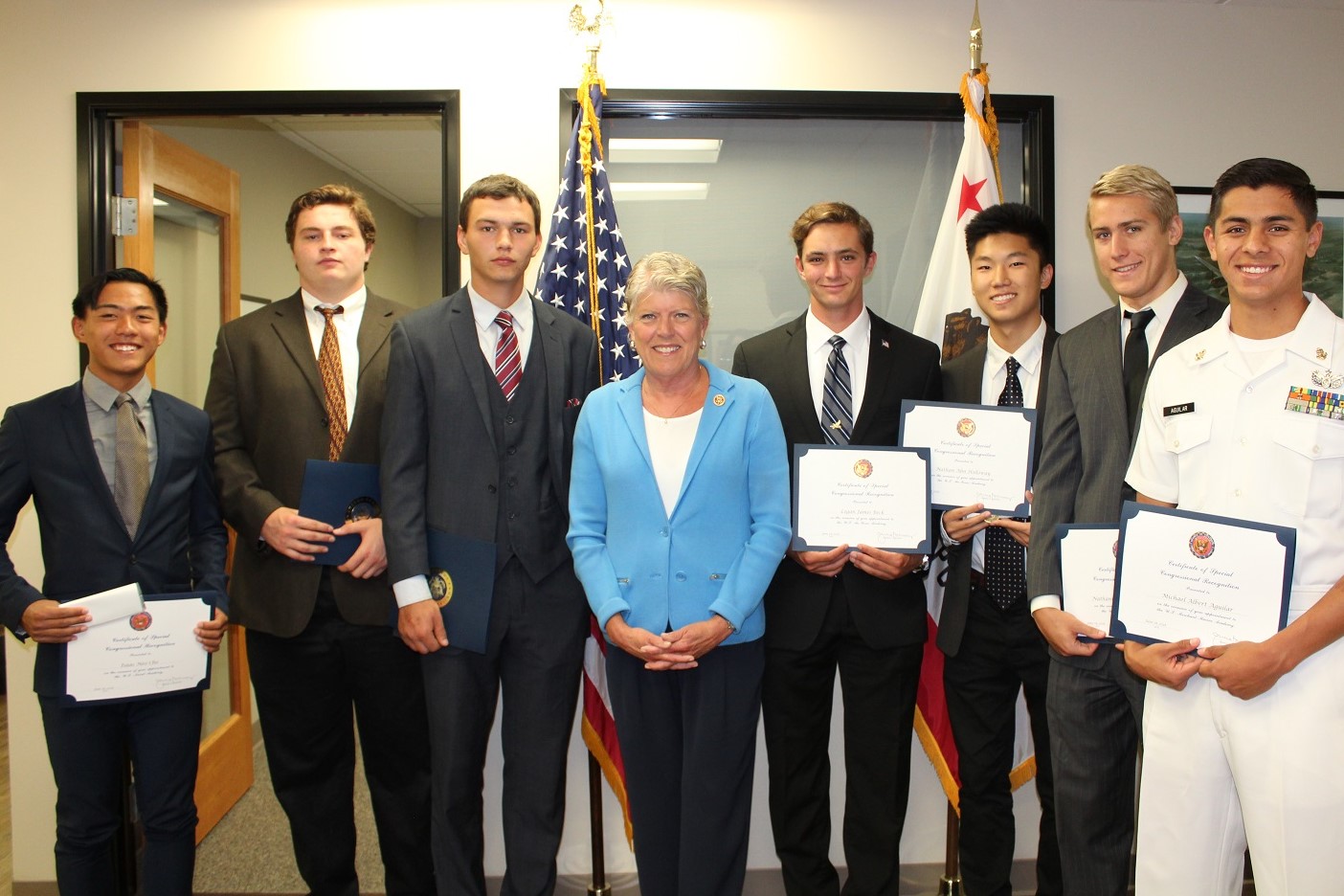 Washington, D.C. – Congresswoman Julia Brownley (D-Westlake Village) today announced the eight Ventura County students she nominated who have accepted appointments to attend U.S. service academies this fall.
"I am so proud of these young people who have answered the call to serve our nation," said Congresswoman Brownley. "As someone who grew up in a military family, I know the dedication that is required to serve our country. These students are some of the best and brightest Ventura County has to offer, and I know they will represent us well."
The students are as follows:
Michael Aguilar, Foothill Technology High School, U.S. Merchant Marine Academy
Logan Beck, Oak Park High School, U.S. Air Force Academy
Isaac Cho, Pacifica High School, U.S. Naval Academy
Charlie Coughlin, Home School/Thomas Aquinas College, U.S. Military Academy
Luca Fratianne, Newbury Park High School, U.S. Naval Academy
Tyger Goslin, Moorpark High School/Naval Academy Preparatory School, U.S. Naval Academy
Nathan Holloway, Thousand Oaks High School, U.S. Air Force Academy
Nathaniel Steward, Adolfo Camarillo High School/UC Davis, U.S. Air Force Academy
Brownley held a reception for the appointees and their families on Monday. Photos are available here.
The rigorous nomination and appointment process began last fall with students submitting lengthy applications to Brownley's office. The students were then interviewed by a panel of local alumni of the U.S service academies convened by Congresswoman Brownley. The panel then provided the Congresswoman recommendations for each student, and the Congresswoman nominated candidates to the service academies based on the panel's recommendations. Each nominee then went through the academy application process and then a select group were offered appointments by the academies.
The honor of attending a service academy comes with an obligation and commitment to serve in the U.S. military for a minimum of five years upon graduation.
Issues: 115th Congress, Defense, Education