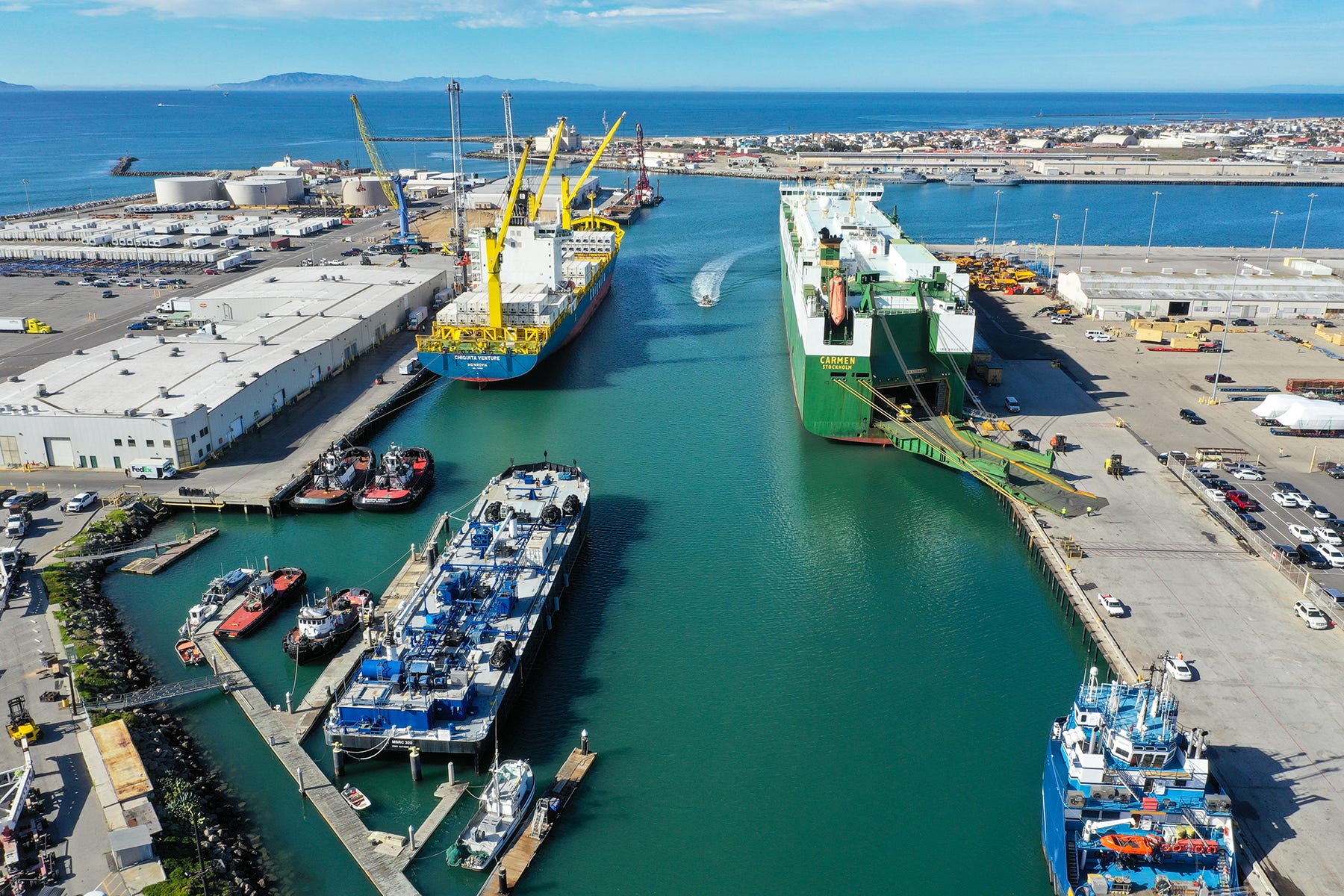 Washington, D.C. – Today, Congresswoman Julia Brownley (D-CA) announced that the U.S. Economic Development Administration (EDA) has awarded the Port of Hueneme over $5 million to make critical long-term infrastructure improvements and dredge a berth at the port, which will enable container vessels to load heavier with cargo at each visit. Once completed, the project will modernize the wharf and pier structure to mitigate seismic risks and climate resiliency, while creating jobs and strengthening the regional economy.
"The Port of Hueneme is an essential economic driver to our region and a critical partner in providing job growth across Ventura County," said Congresswoman Julia Brownley. "I am so pleased that the Port is receiving this critical funding, which not only makes important investments in our infrastructure but reduces pollution, generates millions in revenue, and creates hundreds of jobs. This project is a win-win-win all around."
"It is exciting news that the Port of Hueneme is being awarded a grant by the Economic Development Administration," said Kristin Decas, CEO & Port Director. "This award will be used to improve berthing that supports shore side power for zero emission dockage and also help our local community by providing sand for beach nourishment at the Port Hueneme Beach. We at the Port of Hueneme are grateful for the leadership and steadfast support of Congresswoman Julia Brownley to ensure grant funding comes to the Port to create economic and environmental wins."
EDA has invested $5,052,255 in the Dredge Element of the Port of Hueneme's D3 (Dredge, Demo and Delivery) Project, which will increase the overall flexibility of the freight network through the promotion of efficient movement by way of the Port's South Terminal. This project of regional and national significance complements and proposes to leverage cargo handling capacities currently being achieved from recent investments committed by the U.S. Army Corps of Engineers Harbor Deepening Project, the U.S. DOT Tiger 7 Port of Hueneme Intermodal Improvement Project, and the U.S. Economic Development Administration Grant for the pavement of cargo marshalling areas. The region will benefit from the project's comprehensive creation of economic development opportunities, new jobs, cleaner air from solar power and reduced congestion, and intermodal efficiencies that will result with these improvements.
Specifically, the Dredge Element of the Port of Hueneme's D3 Project will:
dredge berth 3 and build on the recently completed deepening of adjacent berths 1 and 2. Dredging an additional 5 feet (from 35 ft. to 40 ft. deep) will enable fresh produce container vessels to load heavier with additional essential cargo each visit.
create 282 new permanent jobs, $14 million in new business revenue, $2.9 million in local purchases, and $2.3 million in state and local taxes annually.
promote regional connectivity to one of the largest populated regions in the United States.
leverage federal investment to utilize $21 million of private investment through three new mobile hybrid electric cranes which will unload the additional cargo.
respond to customer growth and capacity demands and support increased export and import cargo flows.
###
Issues: 117th Congress, Jobs, Economy, and Small Business, Local Issues, Transportation and Infrastructure