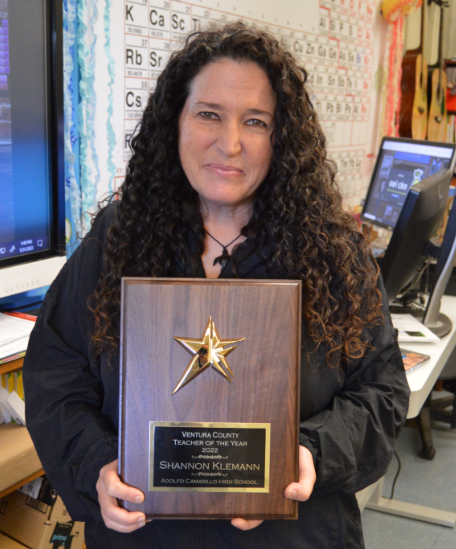 Washington, DC — Today, Congresswoman Julia Brownley (D-CA) announced that Ventura County teacher, Shannon Klemann, will be her guest at this year's State of the Union Address, which will take place on Tuesday, February 7, 2023 at 9:00 PM Eastern/6:00 PM Pacific.
Klemann was recognized by the Ventura County Office of Education as the Ventura County Teacher of the Year in June of 2022. She currently teaches AP Biology at Adolfo Camarillo High School and is the Co-Department Chair of the school's science division.
"There were many heroes during the pandemic, and our nation's educators were certainly among them," said Congresswoman Julia Brownley. "In the face of numerous challenges brought on by the transition to distance education, Mrs. Klemann exemplified remarkable dedication in the field of education, and she worked diligently to keep her students informed and engaged. Her title of Ventura County Teacher of the Year is very well-deserved. I am so pleased to welcome Mrs. Klemann to Washington and to recognize her – and teaching professionals across the country – for the invaluable work they do to inspire their students each and every day.
"In the most challenging of times, House Democrats and the Biden Administration worked hand-in-hand to deliver for America's teachers, students, and families. We took bold and immediate action to curb the pandemic and get us on a path to economic recovery. We passed historic, life-saving legislation that provided urgently-needed resources to put vaccines in people's arms, money into families' pockets, and children safely back into classrooms.
"Specifically, House Democrats worked diligently to make a nearly $130 billion investment in K-12 school re-opening and making up for lost time in the classroom. California alone received over $15 billion that was used to reduce class sizes, modify spaces to improve ventilation and implement mitigation measures, and provide summer school or other support for students.
"Most recently, we delivered critical infrastructure investments to schools and libraries in our communities and expanded broadband access to all Americans. During the pandemic, when many students relied heavily on internet access to continue their education, these investments could not be more welcome.
"As House Democrats continue our work to deliver for the American people, we are also committed to supporting our education workforce and improving students' access to education, including STEM education, which serves as the unwavering foundation for American ingenuity and innovation."
For the first time since the COVID-19 pandemic, Members of Congress' guests are invited to attend the State of the Union in-person. Congresswoman Brownley is pleased to welcome Shannon Klemann as her guest as an important way to recognize and uplift the stories of workers and families in California's 26th Congressional District.
###
Issues: 118th Congress, Education, Local Issues