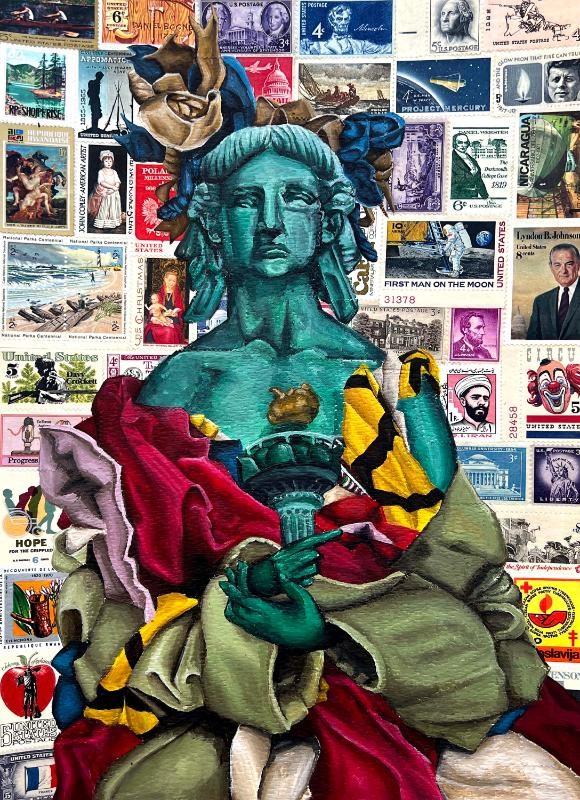 Washington, DC – Today, Congresswoman Julia Brownley (D-CA) announced Lily Strange, a senior at Buena High School, as the winner of the 2022 Congressional Art Competition for California's 26th Congressional District. Lily's piece is entitled "Liberty Forever," and her artwork will be displayed in the U.S. Capitol complex for one year.
"Each year, I am in awe of the young talent of artists across our district who participate in the Congressional Art Competition," said Congresswoman Julia Brownley. "Art is an important outlet for students to express their emotions, channel their creativity, and advocate for the causes they care about. Our community is richer because of the contributions of the next generation of artists like Lily. Thank you to all of the students who participated this year and the educators who encouraged them along the way – and a very special congratulations to Lily on a job well done."
"I am honored to have my artwork recognized, especially a piece so meaningful to me," said Lily Strange, 2022 Congressional Art Competition Winner. "Communication is essential, whether between countries or between people, and stamps honor this. The foundation of our liberty is built from community – and through communication."
"It was amazing to see so many talented young artists expressing themselves and sharing with the community," said Jonathan Zachary, a Camarillo-based artist and Congressional Art Competition judge.
Two honorable mentions were also recognized including "Cut It Off" by Halle Goldberg and "Saturnia Pavonia" by Christopher Spinelli. Their artwork will be displayed in Congresswoman Brownley's district office in Thousand Oaks.
Started in 1982, the nationwide Congressional Art Competition is sponsored by the Members of the U.S. House of Representatives and is an opportunity to recognize and encourage student artistic talent across the country. The competition is open to all students in grades 9-12 in California's 26th Congressional District. The winner was selected by a panel of local judges.
###
Issues: 117th Congress, Local Issues