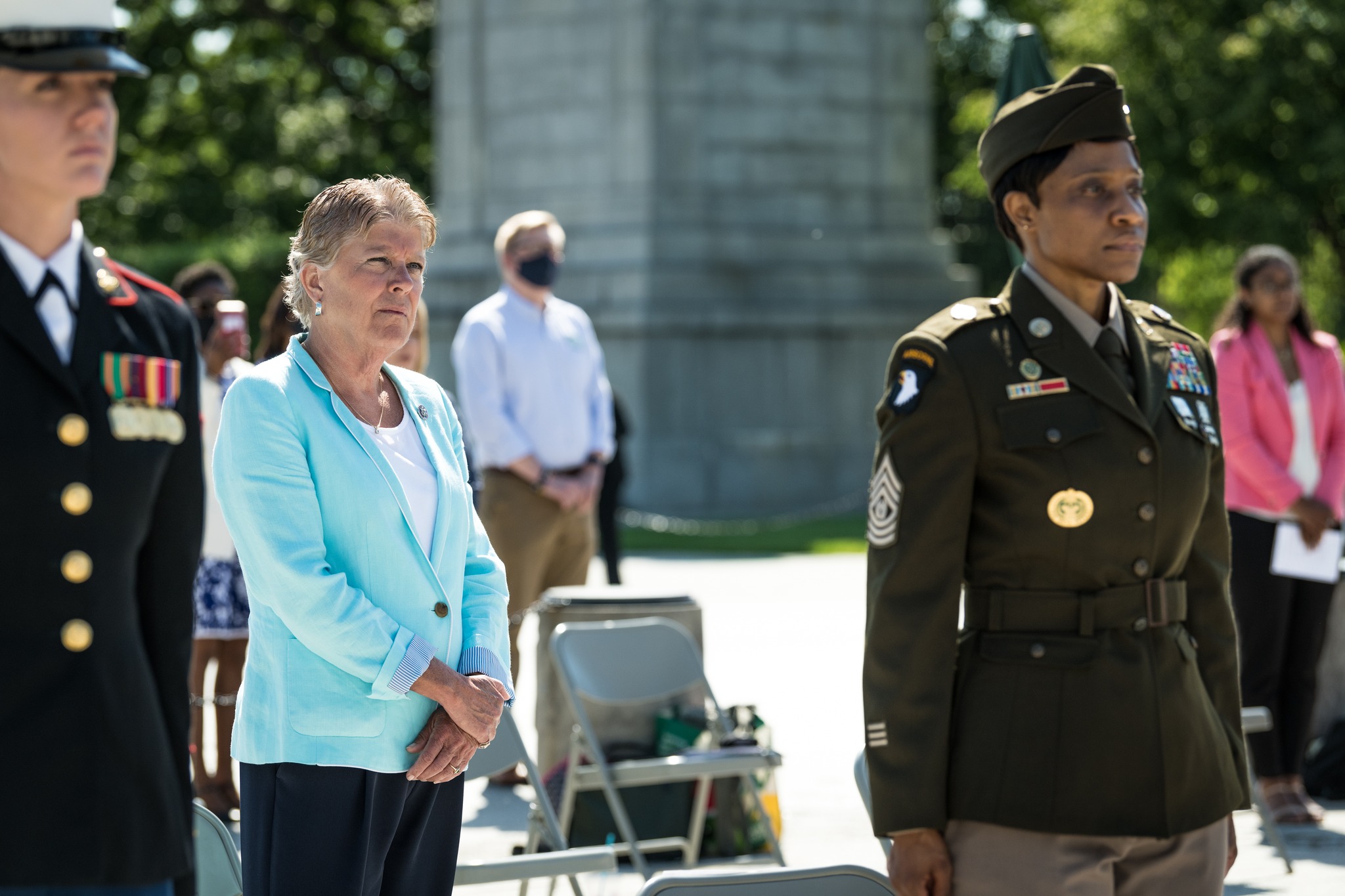 Washington, DC – Today, Congresswoman Brownley (D-CA) released the following statement after the U.S. Department of Veterans Affairs' announcement that its motto will be changed to the following: "To fulfill President Lincoln's promise to care for those who have served in our nation's military and for their families, caregivers, and survivors."
"Mottos are statements of values and mission. I applaud the U.S. Department of Veterans Affairs for changing its long-standing statement to be more reflective of the department's pursuit to be truly equitable and inclusive," said Congresswoman Brownley. "This change couldn't have come at a better time as we celebrate Women's History Month to reaffirm our commitment to gender equality and acknowledge the invaluable role women have played in service to our country.
"Over the last several years, Congress has set forth numerous mandates to guide the mission of the Department of Veterans Affairs to meet the growing and changing needs of an increasingly diverse veteran population including women veterans and LGBTQ veterans. This long overdue change to the motto ensures all veterans, as well as their families and caregivers, feel recognized for their service, regardless of their gender or sexual orientation.
"Equality is one of the founding ideals of our great nation – and one that our veterans have served to protect and uphold. As we continually strive to strengthen our democracy, the statements of our purpose must be reflective of our beliefs of true equality and inclusion. That is why I remain committed to continuing to work with Secretary McDonough and VA as we collectively approach this salient objective."
Background
Previously, VA's motto was: "To care for him who shall have borne the battle and for his widow, and his orphan." This phrase originated from President Abraham Lincoln's second inaugural address on March 4, 1865.
As founder and chair of the Women Veterans Task Force in the 116th Congress, Congresswoman Brownley, with the support of many veterans and stakeholders, has been at the forefront of changing the U.S. Department of Veterans Affairs' (VA) motto to accurately represent and honor the service of all veterans. 
After being strongly urged by the military and veterans community to update the dated motto — which has been criticized for not reflecting nor accounting for the contributions of women veterans throughout our nation's history — VA announced a change in motto on March 16, 2023. The new motto is, "To fulfill President Lincoln's promise to care for those who have served in our nation's military and for their families, caregivers, and survivors."  
###
Issues: 118th Congress, Veterans' Affairs, Women Veterans Task Force