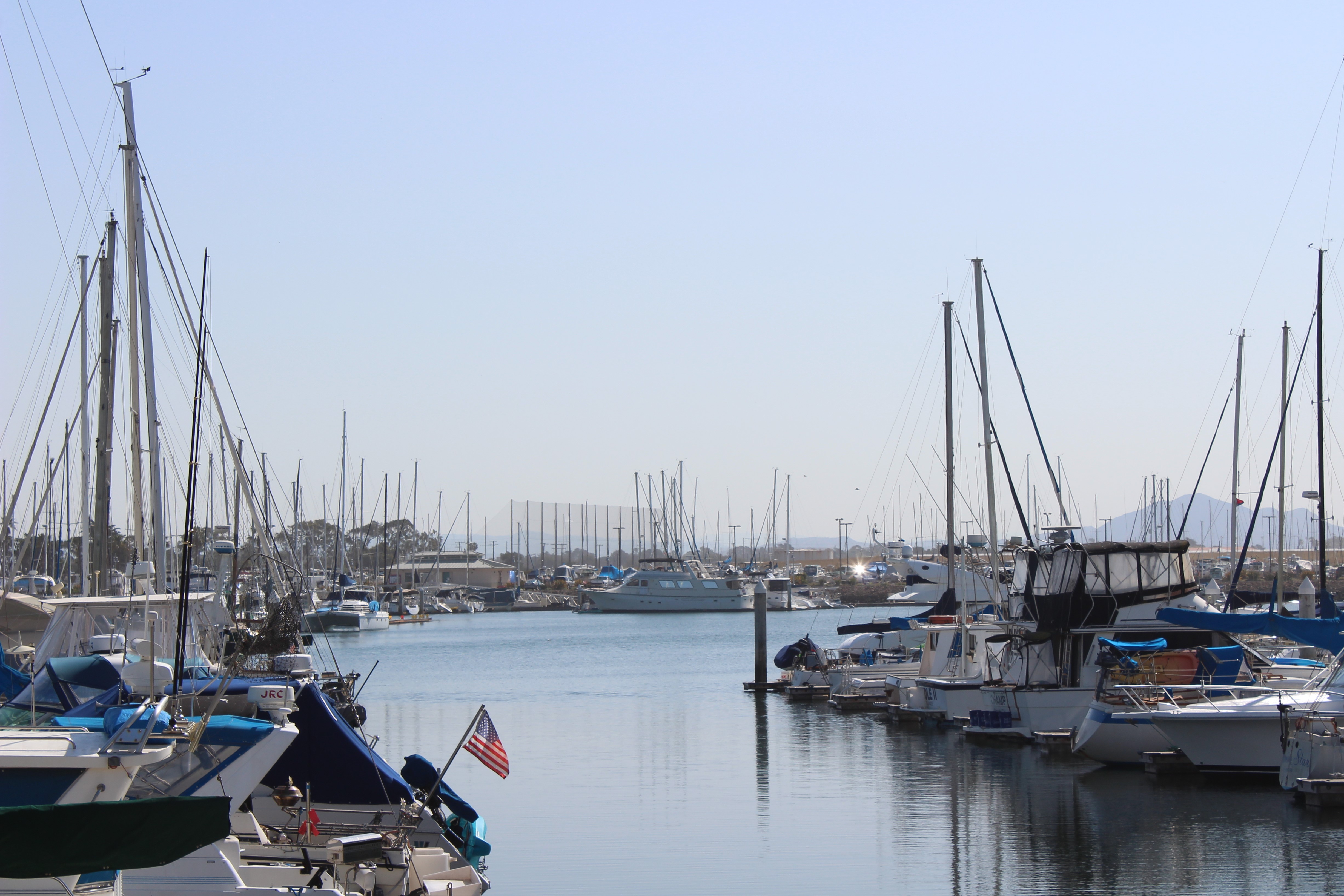 Chris Frost | Tri County Sentry
Channel Islands– The Harbor got an excellent boost courtesy of Washington D.C., Monday, April 25, as Congresswoman Julia Brownley delivered a $15 million check, a $6 million increase, to assist with harbor dredging and beach replenishment.
Harbor Director Michael Tripp led off the event and said Brownley has been serving the 26th District since 2012 and has been a tireless supporter of Channel Islands Harbor and the Port of Hueneme.
"During her time in office, Congresswoman Brownley has secured millions of dollars to ensure that Channel Islands Harbor can continue to serve as a recreational resource for the people of Southern California," he said.
Brownley called the event a big win for Channel Islands Harbor and the whole community.
"Since day one, I have been working on funds for dredging and maintenance of our harbors in Ventura County," she said. "Not only is maintaining navigable depths of the Channel critical for local residents and businesses that rely on this waterway, but the sand that is dredged is essential for beach nourishment down the coast, including Silver Strand, Port Hueneme, Ormond Beach, as well as Point Mugu, a critical Naval installation of the United States Department of Defense."
She said Channel Islands Harbor must be dredged biannually to keep the sand traps clear and the Channel navigable for boats using the Harbor.
"To provide sand for those downcoast beaches," she said. "Without proper maintenance and dredging, not only would the Harbor be forced to close, but we know from past experience that coastal erosion causes significant damage to infrastructure in the City of Port Hueneme and Point Mugu Naval Air Station. It's also important to note that the US Coast Guard at Channel Islands Harbor depends on the Channel to remain navigable for critical Maritime missions, including search and rescue operations and law enforcement support along our coast."
She said that's why she's working with county stakeholders, including the US Army Corps of Engineers, the City of Port Hueneme, and Naval Base Ventura County, to ensure adequate Federal funds for the biannual dredge.
"Getting this funding has truly been a team effort; I can't emphasize that more, and I appreciate the work of everyone in the community to see this project get done," Brownley said. "The Fiscal Year 2022, the final appropriations bill, was signed into law by President Biden and provided over $15 million for dredging and maintenance at Channel Islands Harbor."
She said the amount was well above the initial budget request and would not have been possible without the support of Colonel Balten and her team at the LA District Office at the Corps of Engineers.
"This funding will support critical operations at the base, local businesses that rely on these waterways, and as a community that is so proud of its beauty and picturesque views, this funding will support the preservation of our coastline and beaches," she said. "There is a reason that Ventura County is a wonderful place to live, work, and to raise a family. I am so happy to play a small role in making it so special for everyone who calls Ventura County home."
Supervisor Carmen Ramirez praised Brownley and noted that she always brings tax dollars home to serve the community.
"We who have the privilege and pleasure of living in Ventura County, and this happens to be my district, and I am proud to have this area in District Five," she said. "As all of the supervisors know, we have to protect our coastline, keep Ventura County healthy, and be good stewards of the environment and our community that needs our Channel Islands Harbor to be navigable to keep business, recreation and keep our National Security in good shape."
Tripp said when they made the Port of Hueneme in 1940, they built the two rock jetties right up to the submarine canyon.
"What they quickly found out was because of the design, the sand would normally travel down the coast was all going into the canyon, and the beaches down the coast were quickly disappearing," he said. "The Army Corps of Engineers quickly realized what an issue this was, and they decided to build Channel Islands Harbor, along with the sand trap right in front of it. The sand trap catches the sand before it gets to the underwater canyon and can be dredged once every two years and put on the other side of Port Hueneme to serve those beaches that are further down."
Captain Kirk Lagerquist from Naval Base Ventura County said they've enjoyed a decades-long agreement with the Army Corps of Engineers and appreciate getting the funding to replenish the Port Mugu Beaches.
"It's a vital National Security Base, as the Congresswoman pointed out," he said. "Keeping the beach replenished helps to keep it away from the airfield and vital facilities that we have at the base. We appreciate the funding and appreciate the partnership we have with the County and the Harbor."
Port Hueneme Councilman Steven Gama said he's passionate about Hueneme Beach and said the beach is 100 percent dependent on the dredge project to keep the beach sustainable.
"The sand that gets moved from here to Hueneme Beach ends up down at Point Mugu," he said. "The sand flows South, so we are very excited to have an increase in funding, but we realize that moving forward and forever into the future, we have to count cubic yards of sand that's moving around to sustain our beaches in the future and the National Security interests at Point Mugu."
Councilwoman Laura Hernandez thanked Brownley and Senator Diane Feinstein for the funding.
"This is no easy task," she said. "There are so many competing interests and so many communities nationwide that go after this funding that it's quite significant for us to have an increase of over $6 million to help nourish our beaches."
Brownley said the funds would go to work right away.
"There is a window in which this all has to happen, it's an environmental window, and it will start happening in September and October," she said. "The Harbor is important to the community and the county, and if it's not dredged, it all comes to a halting stop. Every two years, we have to fight hard to get the money."
This story originally appeared in the Tri County Sentry on April 29, 2022.