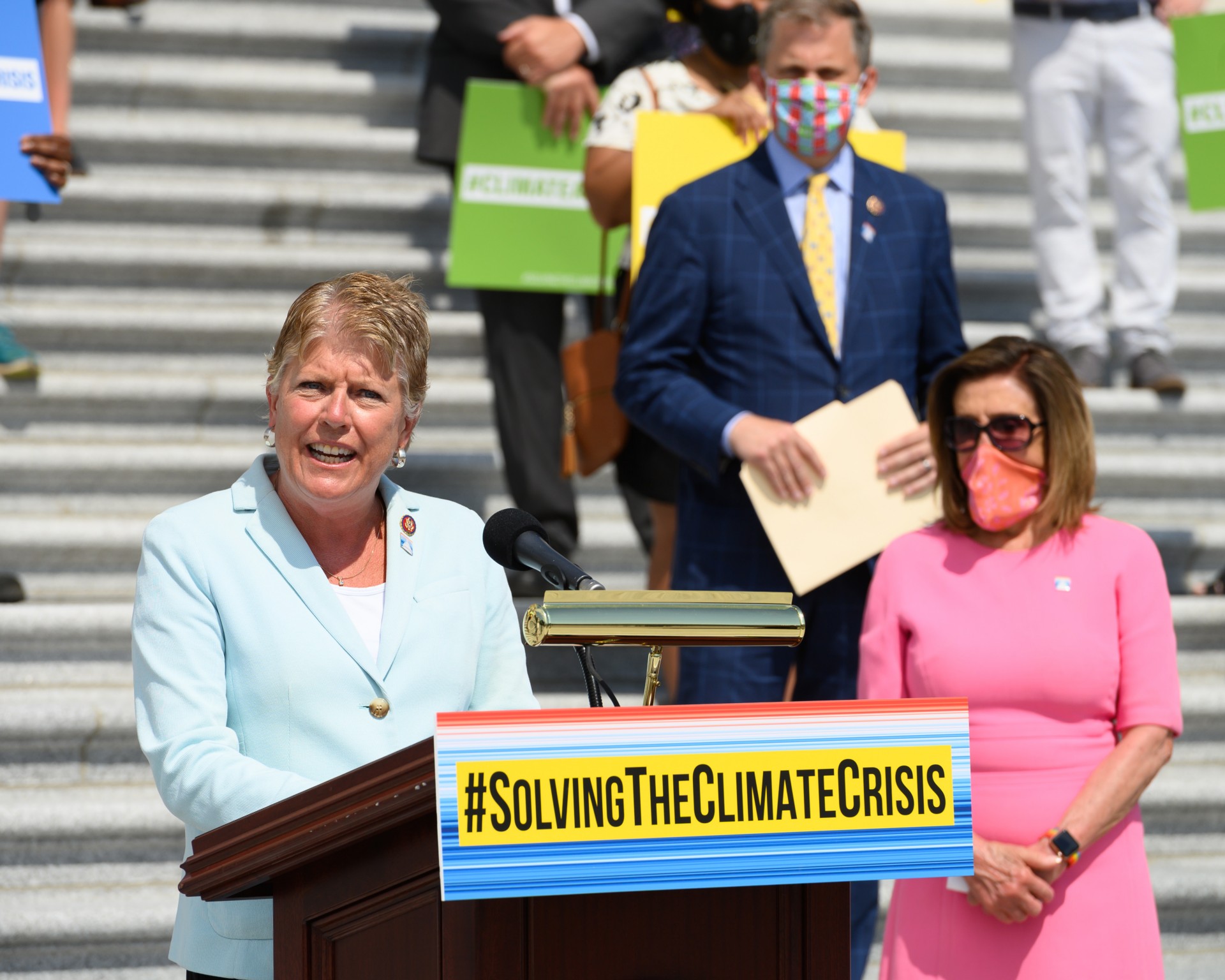 Washington, DC – Today, Congresswoman Julia Brownley (D-CA) announced the introduction of the Bidirectional Electric Vehicle Charging Act, legislation that would promote bidirectional capabilities for electric vehicles (EV) and buses. Bidirectional charging technology allows vehicle owners to send power back to their homes, businesses, and even to a utility grid.
"As the effects of the climate crisis become more evident, from increasing the intensity of wildfires to more intense storms, preparation and adaptation for these events are critical. The emerging technology of bidirectional charging allows electric vehicle owners to send power back into their homes during a blackout or even back to a utility network during peak hours. This ability effectively allows EVs to operate as a 'mini power plant on wheels' by helping to maintain access to power during natural disasters and emergencies," said Congresswoman Brownley. "Bidirectional charging also enables electric buses to be plugged into schools, hospitals, or other emergency operations centers during power outages and emergencies. Given the multiple benefits of bidirectional charging, my bill ensures this smart technology and its capabilities become more widely available throughout the United States."
"The battery capacity in today's electric vehicles gives these cars the potential to be mini power plants on wheels. That's crucial as we increasingly face climate change impacts such as record heatwaves, wildfires, and destructive storms that can lead to power outages. With the Bidirectional Electric Vehicle Charging Act, all EV owners will have a green alternative to avoid air-polluting, diesel-fueled backup generators. With federal leadership like this bill, we can build more resilient grids for communities throughout the United States and a more versatile EV marketplace," said California State Senator Nancy Skinner (D-Berkeley), author of the original bidirectional electric vehicle charging bill (SB 233) in the California Legislature and other initiatives to accelerate the transition to zero-emission vehicles.
"Electric vehicles are batteries on wheels that can help keep the power on wherever they're needed most," said Ellie Cohen of The Climate Center, a climate and energy policy nonprofit working to rapidly reduce climate pollution. "As we prepare for increasingly severe climate extremes, we should look to the batteries in our electric cars, trucks, and buses to avoid blackouts – not polluting fossil fuel power plants and diesel generators. The Bidirectional Electric Vehicle Charging Act will help keep the lights on, clean the air, and advance climate justice, all while lowering energy prices for consumers."
Background
Bidirectional electric vehicles (EV) can be employed as mobile battery storage, and this technology can add resilience and demand-response capabilities for owners and operators. Bidirectional EVs can receive energy from electric vehicle supply equipment (EVSE) and provide energy to an external load when it is paired with a similarly capable EVSE.
Bidirectional vehicles can provide backup power to buildings or specific sites, sometimes as part of a microgrid, through vehicle to building (V2B) charging, or provide power to the grid through vehicle to grid (V2G) charging. V2B and V2G power solutions can complement solar energy systems and other compatible and capable energy sources, as well as supplement generators as backup power.
To promote energy grid resiliency efforts and renewable energy options across the United States, the Bidirectional Electric Vehicle Charging Act would:
Direct the U.S. Department of Energy to develop a National Electric Vehicle Bidirectional Charging Roadmap.
Direct the U.S. Department of Energy to establish technical standards for manufacturers of electric vehicles to standardize bidirectional charging technology.
Require that all new electric vehicles manufactured beginning in 2027 shall be capable of bidirectional charging.
Direct the Federal Emergency Management Agency to issue regulations requiring hazard mitigation plans submitted by states or local governments to incorporate bidirectional charging capabilities.
Read the text of the bill, here.
###
Issues: 118th Congress, Climate Crisis, Energy, Energy and Environment