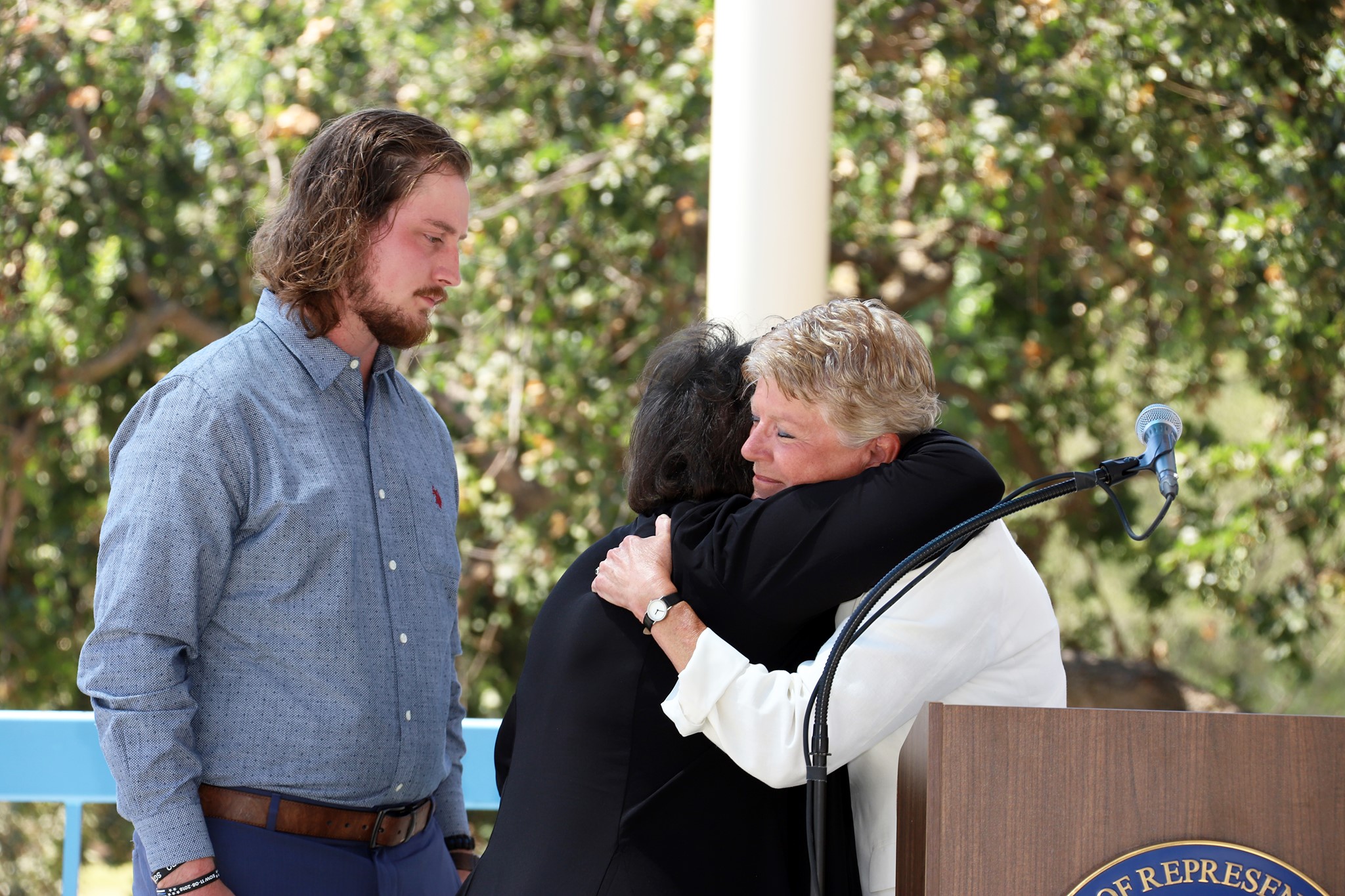 Thousand Oaks, CA – Yesterday, Congresswoman Julia Brownley (D-CA) presented the Congressional Badge of Bravery to the family of Sergeant Ron Helus of the Ventura County Sheriff's Office. The Congressional Badge of Bravery is the highest honor that is bestowed upon law enforcement officers. The medal honors acts of bravery performed by federal, state, and local law enforcement officers.
Sgt. Helus responded to a shooting incident at Borderline Bar and Grill in Thousand Oaks, California, on November 7, 2018. While tragically there were 12 fatalities, there were over 250 people in the bar and Sgt. Helus' actions to engage the suspect undoubtedly saved many lives. Sgt. Helus was struck six times during the incident and succumbed to his injuries. For his bravery, leadership, and swift actions, the Congressional Badge of Bravery was awarded to Sgt. Helus and presented to the Helus Family in a ceremony that took place at the Healing Garden at Conejo Creek North Park in Thousand Oaks.
"We gather to honor Sergeant Heulus' memory and his selfless actions – actions that saved countless lives on the night of November 7, 2018," said Congresswoman Julia Brownley. "I am proud to join the community he loved and the one he faithfully protected and served to present the Congressional Badge of Bravery to the Helus family.
"Every day, the men and women of law enforcement make it safe for Americans to go to work and to lead their lives. Far too often, we take this sense of security for granted. In times of trouble and distress, when we are running toward safety, they are running toward danger – and they do so without hesitation. Such was the case for Sergeant Helus on the night of the Borderline tragedy. This award is reserved for only the most exceptional acts of bravery carried out in the line of duty, and it is by far the most prestigious and highest honor a law enforcement officer can receive in uniform. There is no question that Sergeant Helus earned it."
"As his wife, I've always been aware of his integrity and bravery, and I'm so thankful to see others recognize these qualities in him," said Karen Helus, wife of the late Sergeant Helus. "While I wish he were here to accept this himself, I'm so proud of his actions and how many people he saved that night."
"Ron set a fine example as a deputy sheriff, a husband, a father, as a friend; and in his final moments and deeds, he represented the very best of us – for which we will always owe him a debt of gratitude," said Ventura County Sheriff William Ayub. "Ron made us all proud, and I am honored to share in the presentation of this well-deserved recognition."
"It was an honor and privilege to be asked by Congresswoman Brownley to be a part of this well-deserved recognition for Sgt. Ron Helus whose act of bravery saved many lives," said former Ventura County Sheriff Geoff Dean. "I know it meant a great deal to Ron's widow, Karen, his son, Jordan, and our entire community."
Photos, provided by the Ventura County Sheriff's Office, can be found here.
###
Issues: 117th Congress