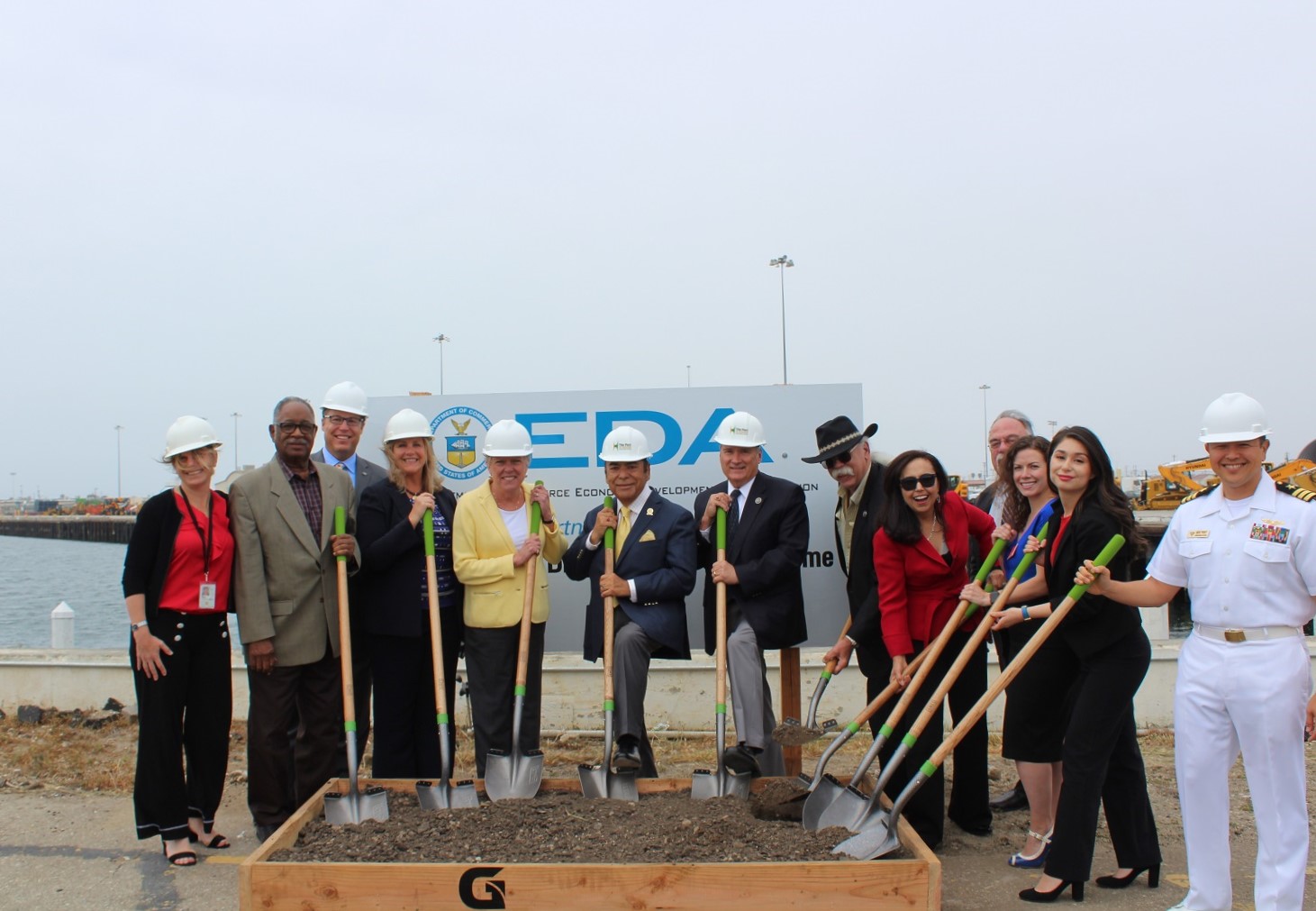 Port Hueneme, CA – Today, Congresswoman Julia Brownley (D-Westlake Village) spoke at the groundbreaking of the Port of Hueneme's new Intermodal Infrastructure Project. Brownley helped secure a $1.5 million grant from the U.S. Department of Commerce Economic Development Administration (EDA) to fund this project, which will provide critical wharf and berth infrastructure improvements and bring new economic activity to Ventura County.
"The Port of Hueneme plays a critical role in our region's diverse economy," said Congresswoman Brownley. "This project is a win for improving efficiency and safety at the Port, as well as creating and sustaining hundreds of jobs and increasing our area's competitiveness in the global marketplace. I look forward to working with the Port of Hueneme as this project continues to develop."
"The first stage of this project is the Terminal Paving Improvement phase which will enable our customers to work more efficiently in loading and unloading their cargo," said Oxnard Harbor District Board President Mary Anne Rooney. "Our slogan, We Make Cargo Move, is indicative of our reputation among Ports as one of the fastest through put ports in the nation. This ability has enabled us to specialize in cargos that require efficient service and quick throughput. This project will allow us to continue to meet the needs of existing and new customers. It will improve on-dock safety for all and reduce the wear and tear on the equipment utilized everyday by our customers and the Port." –
"In its entirety, this project supports over 560 jobs as well as generates $28 million in new business revenue, $5.8 million in local purchases, and $4.6 million in state and local taxes," said Kristin Decas, Port of Hueneme CEO & Port Director. We are grateful for the various partnerships that have made this project come to fruition, including those with Congresswoman Julia Brownley, Will Marshall of the EDA, the cities of Oxnard and Port Hueneme, EDC-VC, and VCTC."
Since coming to Congress, Brownley has been a staunch advocate for the Port of Hueneme, helping to bring grants for infrastructure improvements, environmental infrastructure, and port security enhancements to Ventura County. In December 2014, Congresswoman Brownley expressed her strong support for the Port's EDA grant application in a letter to the U.S. Department of Commerce.
In addition to the $1.5 million grant, the Port is investing $2.32 million for a total project cost of $3.82 million. This project will provide long-term infrastructure enhancements that facilitate the efficient movement of cargo in the most environmentally responsible manner possible. These improvements provide critical upgrades to Port facilities that will maximize utility and operational capabilities to satisfy customer demands for safety, efficiency and environmental sustainability, and mitigate moderate seismic episodes.
Issues: 115th Congress, Jobs, Economy, and Small Business, Transportation and Infrastructure