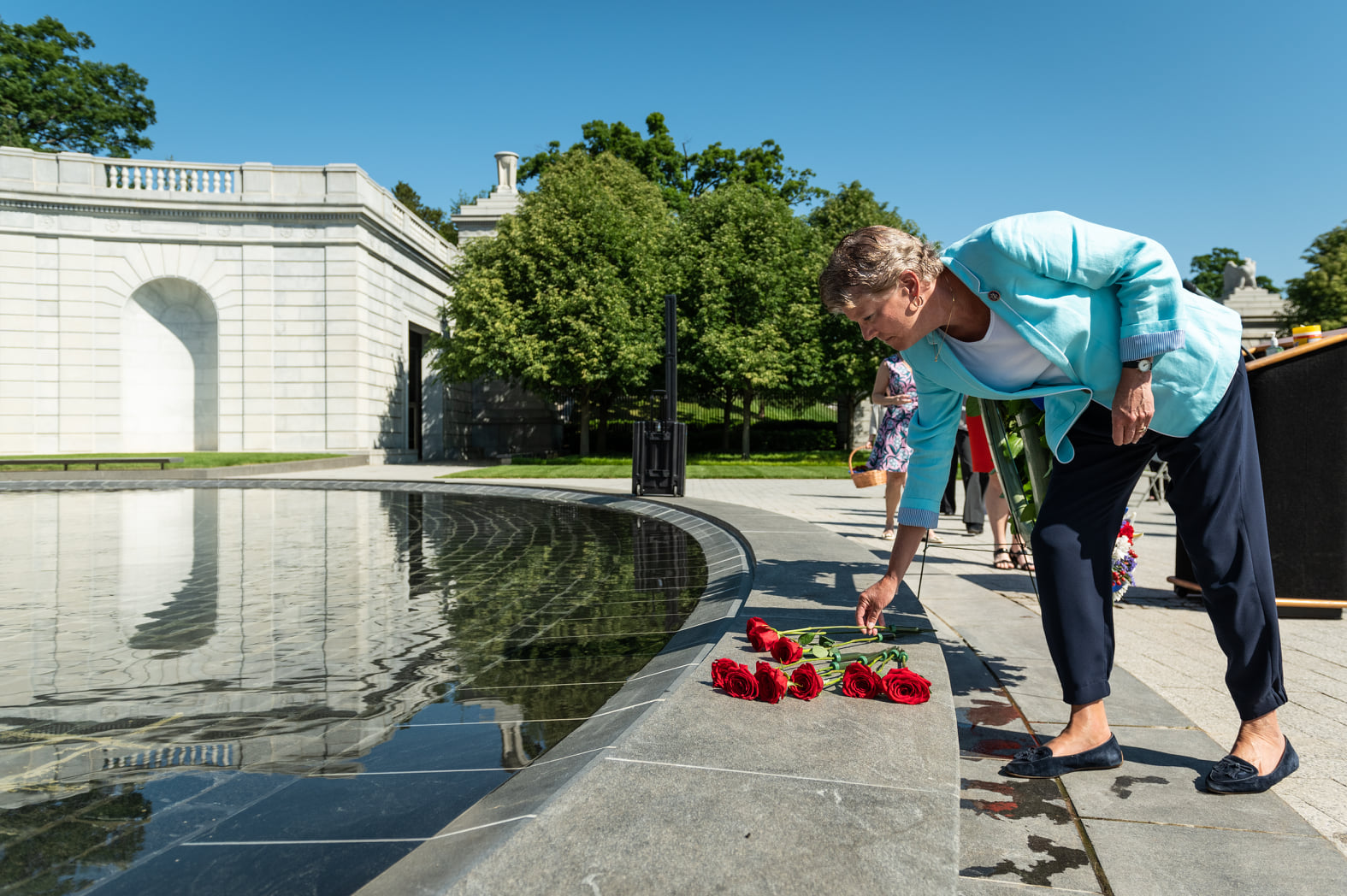 Camarillo, CA – Today, Congresswoman Julia Brownley (D-CA) delivered the following remarks at the Conejo Mountain Funeral Home and Memorial Park's 55th Annual "Lest We Forget" Memorial Day Observance in Camarillo, California:
It is with immense gratitude that I join you once again for this memorial, steeped in tradition, as we join communities across our country to mourn the sons and daughters, brothers and sisters, fathers and mothers, and friends who died in service to our nation.
It is so fitting that we come together not only as neighbors, but as fellow Americans, in honoring our fallen.
These brave men and women paid the ultimate sacrifice for the future of this nation and its people – and they must never be forgotten.
Today, we honor their service and sacrifice to preserve our freedom and uphold our democracy and fundamental principles of liberty, equality, and justice – which we hold so dear. Today and every day, we remember their every battle, every crusade, and every mission for the greater good. We honor their indispensable role in ensuring our nation's strength and might.
We must also recognize the unseen heroes: the Gold Star families who supported these men and women in service and who now forever bear their memory in their hearts and carry their legacies in American history.
Every day, the families of our fallen share in their loved one's sacrifice as they grapple with a loss unlike any other. Yet, these families and friends face each day with immense strength and resilience. As fellow Americans, it is our moral and civic duty to help them navigate the trenches of grief and climb the mountain of overcoming. This journey is far from easy, but it is made possible when we all join together in honoring the courage and selflessness of their loved ones. That is the solemn reason for which we are gathered here today.
Memorial Day is a salient occasion for reflection and appreciation and reverence. But it also serves as a renewed call for action and a compelling reminder that recognizing America's fallen heroes is a job never done. It is the work we do each and every day that defines how profoundly we take on that charge.
One of the many ways in which we can honor the service of our fallen is by delivering on our promise to all those who have worn the uniform in our nation's defense.
Since day one, serving our veterans and their families as well as they have served our nation has been a guiding light in my work in Congress. As a member of the House Veterans Affairs Committee, I am committed to ensuring our veterans and their families are given the care, benefits, and support they have earned.
I stand with you on this day in honoring our fallen, as well as their brothers and sisters in arms and their loved ones, and carrying forth the ideals of freedom and democracy for which they so proudly stood their ground. Our nation owes them all a debt of gratitude for their service and sacrifice.
May God bless our men and women in uniform, both past and present, and may God bless the United States of America.
---
Issues: 118th Congress