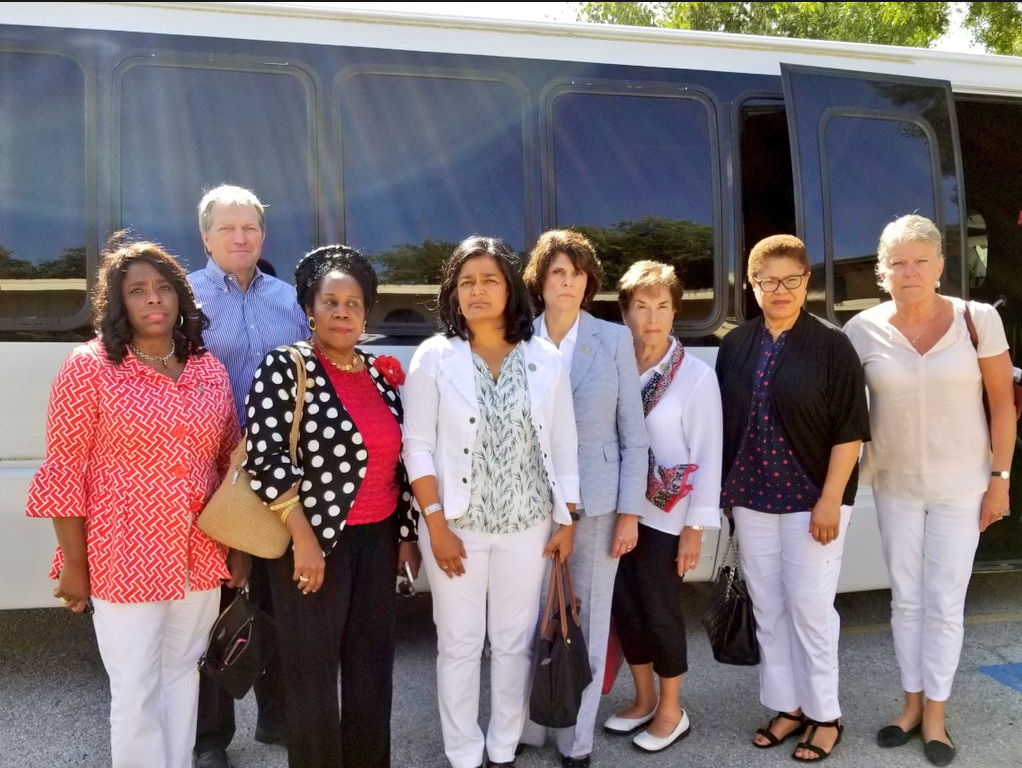 McAllen, TX — Congresswoman Julia Brownley (D-CA) today conducted site visits to facilities along the Texas border to assess the current state of President Trump's family separation crisis and efforts to reunite children with their parents. Brownley, along with seven other Members of Congress, observed court proceedings at the U.S. Federal Courthouse in McAllen, TX, and visited the Ursula Border Patrol Processing Center, the Port Isabel Detention Center, and the Brownsville Port of Entry. Brownley released the following statement:
"Today, I watched tearfully as children were finally reunited with their parents after they had been cruelly ripped apart from their parents by President Trump's senseless family separation policy. Some of the children were hysterical as they saw their parents for the first time in far too long, clinging onto them for fear they would be taken away again. Others seemed so in shock from the terror they had experienced, including being told that their parents had abandoned them, that they did not know how to react. While these reunifications were still joyous in many ways, it only served to underscore how truly heartless the President's policy has been and continues to be.
"The American people should not be fooled — families continue to be separated. We met a grandmother today who was crying inconsolably because she was separated from her granddaughter and did not know where she was. Grandparents, aunts, uncles, and siblings are being torn from young children, who are still being kept in cages.
"What is most shocking of all is that all this trauma was purposefully caused by one man's decision to use children as hostages in order to force Congress to advance his extreme immigration policies. These are not the values upon which our country was founded.
"President Trump has already failed to meet the court-ordered deadline to reunite children with their families, and what I saw today suggests we are still far from resolving this stain on American history. Congress must address this humanitarian crisis and move forward with an immigration policy that actually reflects our values as a nation. The very soul of America depends on it."
Brownley was joined by Reps. Karen Bass (D-CA), Mark DeSaulnier (D-CA), Sheila Jackson Lee (D-TX), Pramila Jayapal (D-WA), Lucille Roybal-Allard (D-CA), Jan Schakowsky (D-IL), and Terri Sewell (D-AL).
On July 5th, Brownley, along with Rep. Adam Schiff (D-CA), took part in a site visit of a Southern California facility that is housing immigrant children who have been separated from their parents due to President Trump's immigration policies.
Issues: 115th Congress, Immigration