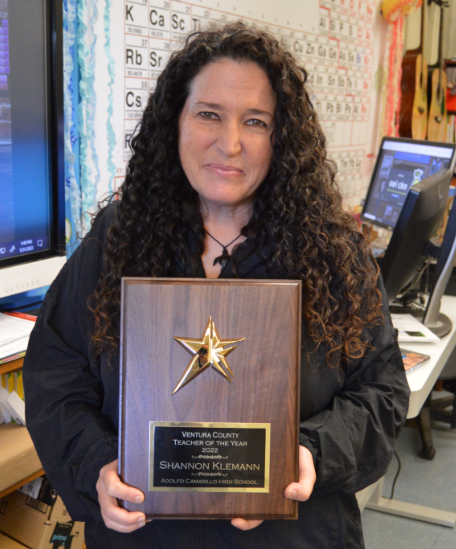 Isaiah Murtaugh | Ventura County Star
Even on the other side of the country, Camarillo High School teacher Shannon Klemann had her biology students in mind.
"My students and I read about Panamanian golden frogs," she texted from a Washington, D.C. subway on Monday. "They only exist in captivity! I'm headed to the zoo to see them."
Ventura County's teacher of the year will visit the U.S. Capitol Tuesday evening sporting a new blazer — colored Camarillo High blue — as a guest of Congresswoman Julia Brownley, D-Westlake Village, for the State of the Union.
She'll be part of the first group of in-person guests in the House Chamber for the speech since the COVID-19 pandemic began.
"There were many heroes during the pandemic, and our nation's educators were certainly among them,"Brownley said in a statement Monday afternoon. "In the face of numerous challenges brought on by the transition to distance education, Mrs. Klemann exemplified remarkable dedication in the field of education, and she worked diligently to keep her students informed and engaged."
In a phone call from the grounds of an "almost empty" Smithsonian's National Zoo, the 24-year Oxnard Union High School District veteran said she was excited for the busy Tuesday ahead, which will include a tour of the Capitol and evening reception before President Joe Biden gives the annual speech.
"I really appreciate the opportunity," the educator said.
In May, district and county education officials surprised Klemann in her classroom to hand deliver the county teacher of the year award.
"These kids, and every kid you touch, are just blessed," Matt La Belle, Camarillo High principal, said at the time.
Klemann was later named as one of 14 finalists for the state teacher of the year award. Winners were announced in October.
The biology teacher is known for her hands-on style, keeping a worm-filled compost bin outside her classroom door, lining the walls with taxidermied animals and taking students on an annual tide pool survey on Santa Cruz Island.
Klemann's class was on her mind Monday. She said she'd spent the early morning preparing lesson plans for the substitute teacher who would take over her class.
"The learning is not as good when you're not there," she said.
Still, she noted, a teacher's extracurricular experiences can come back to benefit students. On Monday, her goal was simple: "I really do want to see those frogs."
This story was originally published by the Ventura County Star on February 6, 2023.
Issues: 118th Congress, Education, Local Issues