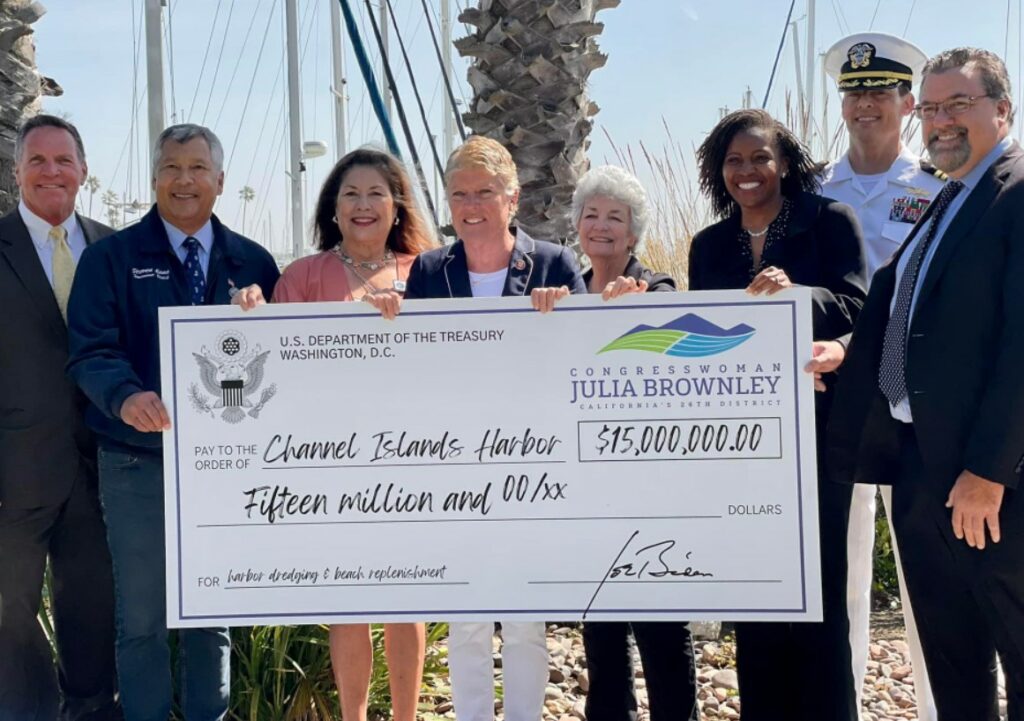 Zlatan Hrvacevic | Dredging Today
Yesterday morning, Congresswoman Julia Brownley presented the County of Ventura and Ventura County Harbor Department Director Michael Tripp with a ceremonial check for $15 million for the bi-annual maintenance dredging of the Channel Islands Harbor.
This critical funding will meet the dredging needs at Channel Islands Harbor, which is instrumental to keeping the harbor open for industries that drive the local economy, including the fisheries and tourism sectors.
These funds will also help to replenish local beaches and address coastal erosion at Naval Base Ventura County.
The Army Corps typically dredges every two years, and has done so for decades under legislation that authorized the small craft harbor and sand trap to be built in the early 1960s.
The harbor was designed to trap sand to prevent loss to the submarine canyon off of Port Hueneme and to provide dredged material for beach replenishment for downcoast beaches.
The replenishment provides vital shore protection for downcoast facilities, including the Naval installations at Port Hueneme and Point Mugu, the Port of Hueneme, the City of Port Hueneme and the Silver Strand beach.
The last time the harbor was dredged, Manson Construction's cutter suction dredge "H.R. Morris" removed approximately 2 million cubic yards of sand from the harbor, placing the dredged material onto the adjacent beaches.
This story originally appeared in Dredging Today on April 26, 2022.