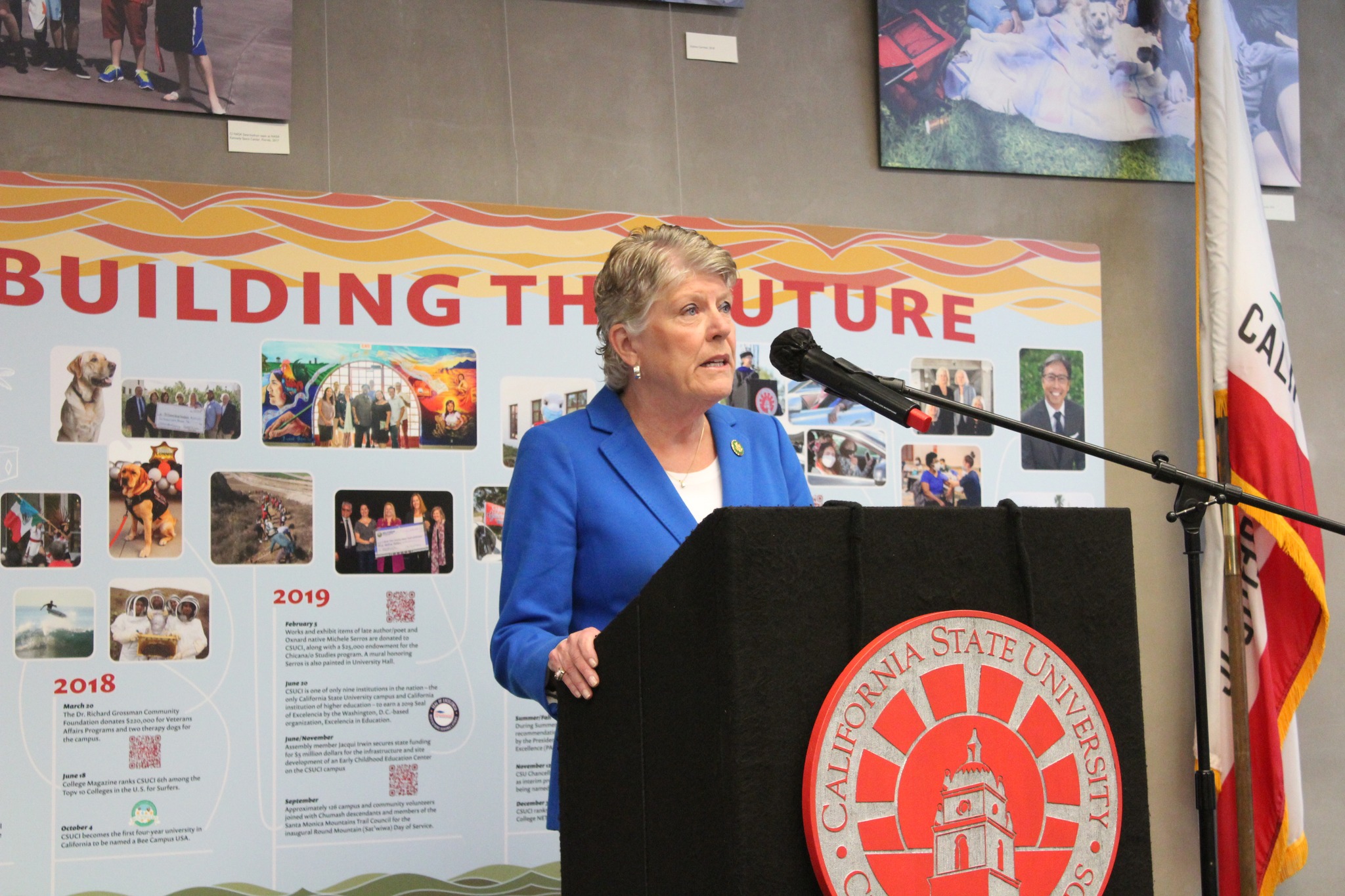 Kim Gregory, California State University Channel Islands | Noozhawk
Plans can get underway for CSU Channel Islands (CSUCI) to offer a new bachelor of science in cybersecurity degree, thanks to a $550,800 check given to the university from U.S. Rep. Julia Brownley.
Brownley made the formal presentation to CSUCI president Richard Yao on March 14 on campus in the John Spoor Broome Library.
"I'm thrilled that CSUCI is thinking strategically about how we can build a pipeline for young people in our community to enter well-paid careers in cybersecurity, which is critical to our overall national security," Brownley said.
The funds are part of a federal FY 2023 Omnibus appropriations bill that included earmark funding for eight CSU campuses, totaling more than $8.75 million.
Yao wrote a letter to the congresswoman last April, underscoring how well-positioned CSUCI is to offer a degree in cybersecurity — a field with a pressing need for trained professionals.
"From collaborations with Amazon Web Services to Google, CSUCI's students in computer science are already receiving world-class educational opportunities," Yao said.
"With the ability to add a cybersecurity program, we will see even more students graduating with a degree that opens the door to careers in lucrative professions that support the public good, and with the knowledge and skills to protect against industry and personal technological threats," Yao said.
A longtime supporter of CSUCI, Brownley is aware of the danger cyber-criminals pose at local, national and international levels.
"As a member of Congress, I have participated in briefings with national security experts to discuss the constant and daily threats that cyber attackers pose to our public infrastructure and to our national security," Brownley said during an on-campus presentation ceremony.
"From China to North Korea to Russia to hostile non-state actors, there are significant cybersecurity threats to our water systems, electric grid, banking systems, and businesses in all sizes of industry," she said.
Speaking during the check presentation event, Provost Mitch Avila quoted a 2022 study conducted by the FBI showing today's cyber landscapes present ample opportunity for cyber-criminals to target U.S. networks, attack critical infrastructure, hold our money and data for ransom, and threaten national security.
Avila read from an annual cybersecurity crime report just released by the FBI indicating that in 2022 there were more than half a million victims of cybercrime, with about $10 billion lost as a result.
"The Biden administration has asked Congress for over $26 billion in funding for cybersecurity for the coming year," Avila said.
CSUCI is "working to build out degree programs for our graduates to work in this important field," Avila said.
CSUCI already offers a minor in cybersecurity, so the computer science faculty is well-qualified to develop the bachelor of science degree in cybersecurity.
Michael Soltys, Computer Science Program chair and professor of computer science has long been involved in cybersecurity programs, initiatives, and educational opportunities.
He has served on Assemblymember Jacqui Irwin's Cybersecurity Advisory Board, the Governor's Cybersecurity Task Force, and has used his connections with Ventura's District Attorney Cybersecurity Task Force to create collaborations between the task force and CSUCI.
"I think we are well-positioned to build on what we already have," Soltys said. "We have a longstanding relationship with the U.S. Navy, and they hire about half of our graduates with cybersecurity minors every year.
"And there is a lot of information technology industry here, a lot of defense contractors. Everybody needs cybersecurity experts."
Reza Abdolee, assistant professor of computer science, is an example of a faculty member already teaching cybersecurity classes.
"We are improving our cybersecurity minor and adding more specialized and up-to-date courses in this area," Abdolee said.
"One of the courses we are planning to add is Cybersecurity Risks and Ethical Hacking," Abdolee said. "Students will learn how hackers and cyber-criminals think. In order to defend our systems against cyberattacks, we need to understand their strategies and mindset."
The timeline for adding the major is to be determined, but the funding enables the preliminary work to get underway.
This story was originally published by Noozhawk on March 20, 2023.
Issues: 118th Congress, Education