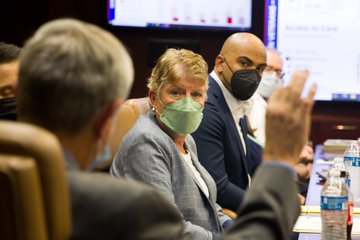 Sara Samora | Stars and Stripes
WASHINGTON — More than 90 veterans and advocacy groups and 55 Democratic lawmakers signed two letters showing support for efforts by the Department of Veterans Affairs to provide abortion services for veterans and urge the agency to do more.
"We urge VA to do everything it can so that any eligible veteran can seamlessly access the abortion care they are entitled to without barriers. Every veteran who needs abortion care to protect their health and life must be able to rely on VA for such care," according to the letter from the veterans and advocate group dated Oct. 11 and addressed to VA Health Undersecretary Shereef Elnahal.
Veteran groups that signed the letter included Minority Veterans of America, Service Women's Action Network, Veteran Legislative Voice, Vet Voice Foundation, and Wall of Vets Georgia. The VA said Elnahal has not received the letter, though it can be found on the Federal Register.
In September, the VA said the agency would provide veterans and beneficiaries of child-bearing age access to abortion counseling and an abortion in special cases such as rape, incest, and if the person's life is at risk.
The decision by the VA came two months after the U.S. Supreme Court in June overturned Roe v. Wade, which had guaranteed a federal right to abortion for nearly 50 years.
"Veterans have faced unique barriers to reproductive health care," said Jackii Wang of the National Women's Law Center which also signed the letter. "Moving forward, we urge VA to do all it can to ensure that all veterans can access the abortion care they need, without barriers."
Another letter signed by 55 Democratic lawmakers, including Rep. Mark Takano, D-Calif., chairman of the House Committee on Veterans' Affairs, was sent last week to Michael Shores, director of the VA's General Counsel's Office of Regulation Policy and Management. The letter, dated Oct. 7, offered support for the VA's efforts with abortion services.
But the letter also expressed concern for veterans who live in states where abortion is banned or restricted and must travel to other states where VA medical facilities or VA-contracted community care providers offer abortion services.
"The [VA decision] did not fully address the extent to which VA will cover travel expenses for veterans who need abortion care, or whether the department will cover travel expenses for a nonveteran to accompany a VA patient for abortion care," the letter reads. "While many veterans in need of abortion care are already eligible for VA's existing Beneficiary Travel Program — because they have VA disability ratings of 30% or greater, or because their income is below a certain threshold — it is reasonable to expect that some veterans who need to travel for abortions will not qualify for travel reimbursement under VA's existing rules."
The Vet Voice Foundation, an organization that focuses on training veterans to become civic leaders and policy advocates, sent an analysis this week to the VA about the agency's ability to expand its efforts on abortion services. The foundation argued the VA can and should go further to provide all abortion care to pregnant veterans and beneficiaries in the agency's Civilian Health and Medical Program.
"Now is not a time for half measures," said Janessa Goldbeck, a Marine Corps veteran and CEO of the Vet Voice Foundation. "We need the department to go all in and do more to ensure veterans have access to abortion services. Because as veterans, we didn't serve and protect this nation around the world just to have our rights stripped away here at home. We hope the department will review this memo and adopt its recommendations."
Veterans and advocates in September marched and held a news conference in Washington to urge the VA, Defense Department, and lawmakers to do more to provide abortion and reproductive health care services for veterans and service members, which they said could affect national security, recruitment and retention. The Defense Department also provides service members and beneficiaries access to abortion counseling and the procedure in special cases such as rape, incest, and if the life or health of the person is at risk.
Sen. Tammy Duckworth, D-Ill., an Army veteran, spoke at the news conference and said what the VA and Defense Department are doing was an important step forward, but it was not enough since many women in the military don't have a choice of duty stations and can be assigned to bases in states where they cannot have an abortion such as Texas.
The letter from the lawmakers urges VA Secretary Denis McDonough to move quickly to issue clarifying guidance about the VA's beneficiary travel authority and how it relates to abortion services.
"This is a long-overdue step in improving care for women veterans, and in furthering VA's ongoing efforts to build trust with women veterans, who for decades have had to independently find, coordinate, and finance life-saving medical care that should have been provided by VA," the lawmakers wrote. "Women veterans have earned and deserve access to these comprehensive reproductive services no matter where they live. We strongly support this regulatory action because it is simply the right thing to do to ensure veterans who have served our country have the opportunity to be fully informed partners in their own health care decisions."
In August, the House Committee on Veterans' Affairs announced it had begun a new initiative to focus on veterans' reproductive health care.
The announcement came after House committee members visited VA medical centers in Texas and Oklahoma and heard from women veterans and health providers on access to reproductive health care.
Rep. Julia Brownley, D-Calif., chairwoman of the House VA Committee's subpanel on health and the Women Veterans Taskforce, will lead the initiative.
This story was originally published by Stars and Stripes on October 14, 2022.
Issues: 117th Congress, Veterans' Affairs, Women Veterans Task Force