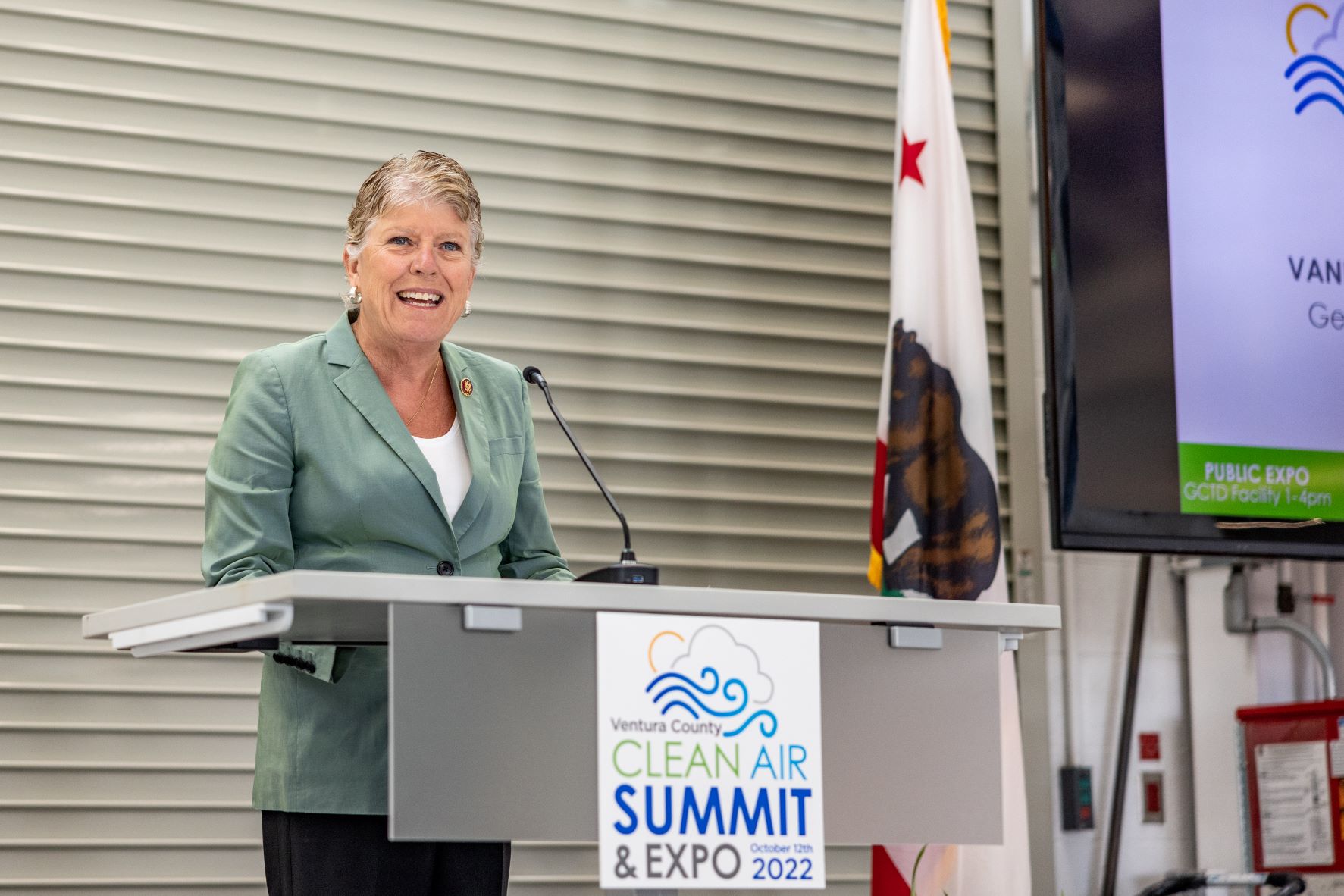 Management | Mass Transit
Gold Coast Transit District (GCTD) hosted a Clean Air Summit & Expo at its operations and maintenance facility in Oxnard, Calif., on Oct. 12 where speakers addressed clean energy, climate action, hydrogen fuel cell technology, micromobility and vehicle electrification. The summits was supported in part by title sponsor, Ventura County Transportation Commission, and convened four established clean air experts – Amanda Fagan from the Ventura County Transportation Commission, Ali Ghasemi of the Ventura County Air Pollution Control District, Roxana Bekemohammadi, founder of the United States Hydrogen Alliance and Leslie Goodbody of the California Air Resources Board.
Opening the summit, U.S. Rep. Julia Brownley (D-CA-26) addressed the crowd of more than 100 transportation professionals and key stakeholders, thanking GCTD's leadership for meeting our county's transportation needs.
"I am pleased to recognize and celebrate the incredible progress that Gold Coast Transit District has made in the advancement toward a zero-emission transportation system, not only in our region but in our great state of California," said Rep. Brownley.
Noting that clean air is a basic human right, Brownley reminded summit attendees that transportation and the environment go hand in hand.
"We cannot focus on one without addressing the other," she stated. "That's why we are here today. To address how emissions from various avenues of transportation impact our way of life, and more importantly, to recognize the potential for clean air measures to build a stronger and more resilient future for us all."
The congresswoman noted that this potential was not lost on Gold Coast Transit District, as it sought solutions to not only drastically reduce the emissions of greenhouse gases but to update an aging fleet of buses while developing a robust workforce for the future of zero-emission technology. Brownley congratulated GCTD for securing a $12 million grant from the Federal Transit Administration, which is supporting the purchase of hydrogen fuel cell electric buses, the installation of a hydrogen fueling station, and the launch of a workforce development and training program.
Following the Clean Air Summit, a free, open-to-the-public Expo was held showcasing sustainable clean air transportation practices. GoGo Electric demonstrated its eco and family-friendly electric scooters, while Santa Barbara County Association of Governments' (SBCAG) EZ Bike Project had several electric bikes available to take a spin. Other vendors included, Clean Mobility Options, and Clean Power Alliance, while the newest electric and hydrogen fuel cell buses were on-site from Gillig, New Flyer, and Proterra.
"This Clean Air Summit & Expo was important for us to bring to Ventura County," said Vanessa Rauschenberger, general manager of Gold Coast Transit District. "Here at GCTD, we connect people to places and opportunities. That also includes events like this where we can convene transportation and clean air leaders to share ideas, tackle challenges, and collaborate to identify solutions that will move the needle forward to a cleaner future for all residents".
This story was originally published by Mass Transit on October 14, 2022.
Issues: 117th Congress, Energy and Environment, Transportation and Infrastructure