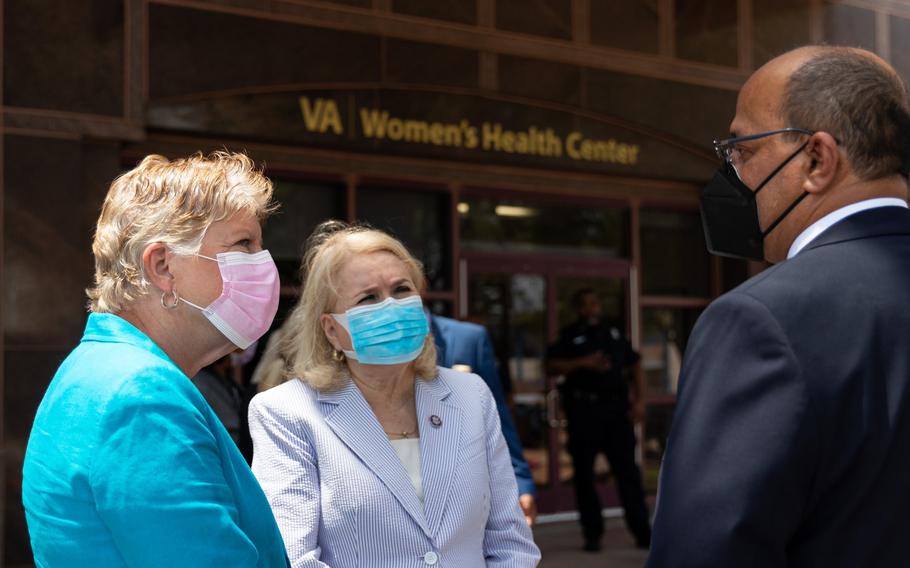 Sara Samora | Stars and Stripes
WASHINGTON – The House Veterans Affairs Committee announced on Thursday it had begun a new initiative to focus on veterans' reproductive health care.
The announcement came after House committee members visited VA medical centers in Texas and Oklahoma and heard from women veterans and health providers on access to reproductive health care. In June, the Supreme Court overturned Roe v. Wade in a 5-4 decision, in which the majority ruled that "the Constitution does not confer a right to abortion."
Oklahoma and Texas were among states that banned or severely restricted access to abortion services in the wake of the court decision.
"We cannot diminish the sacrifices our women veterans made to protect equality while in uniform by undermining it in what should be a safe, welcoming space," said House VA Committee Chairman Mark Takano, D-Calif. "VA has an immediate opportunity to demonstrate to the rest of the country what high-quality reproductive healthcare looks like and must act to keep its status as a leader in our country's healthcare delivery."
Rep. Julia Brownley, D-Calif., chairwoman of the House VA subcommittee on health and the Women Veterans Taskforce, will lead the initiative.
"As the assault on reproductive rights escalates and the right to bodily autonomy continues to be threatened, veterans are rightfully anxious and emotionally distressed about the future of their reproductive care," Brownley said in a statement. "Chairman (Mark) Takano and I continue our commitment to working with Secretary [Denis] McDonough to carry out VA's mission to provide our nation's veterans with the comprehensive healthcare, including access to comprehensive reproductive healthcare, that is essential to their health and well-being."
Additionally, the House VA committee said it has been working on gathering feedback about the Supreme Court's decision on Dobbs v. Jackson Women's Health Organization that will impact reproductive health care at the VA. In Dobbs V Jackson, the Supreme Court ruled 6-3 to uphold Mississippi's law that prohibited abortions after the fifteenth week of pregnancy.
"Millions of veterans live in states that have already issued or plan to issue bans or restrictions on abortion, contraceptives, fertility treatment, and other reproductive healthcare services," according to an Aug. 18 House VA Committee press release.
In 1992, Congress passed the Veterans Health Care Act, which was supposed to improve health care services for veterans. However, included in the act is the prohibition of the VA from providing abortion services and counseling.
In a letter dated July 28 to McDonough, 25 senators, which include Sen. Tammy Duckworth, D-Ill., Kirsten Gillibrand, D-N.Y., and Patty Murray, D-Wash., sent a letter to McDonough urging him to lift abortion restrictions. Moreover, the senators wrote that the Veterans Health Care Eligibility Reform Act of 1996 will allow the VA secretary to "furnish hospital care and medical services which the Secretary determines to be needed" to certain veterans.
McDonough said last month on CNN's "State of the Union with Jake Tapper and Dana Bash" that the VA will ensure that women veterans have access to the full slate of reproductive care "because that's what we owe them."
When Tapper asked if the department would fly veterans to states where abortion services are not banned, McDonough said the VA is looking at how to guarantee the life and health of women veterans.
"Without clear, state-specific guidance from VA, providers at VA medical facilities are confronted with tremendous uncertainty, and they are frustrated by restricted authority and constraints that limit their ability to provide the best care for veterans," Brownley said in a prepared statement.
Last year, Brownley introduced the Reproductive Health Information for Veterans Act, which would require the VA to provide abortion counseling to a veteran who has an unwanted pregnancy. The bill is currently in the House Veterans Affairs subcommittee on health.
In July, the House Committee on Veterans' Affairs voted to authorize the Women Veterans Task Force for the remainder of the 117th Congress. The new Women's Task Force senior adviser is U.S Army veteran Esti Lamonaca.
This story was originally published by Stars and Stripes on August 18, 2022.