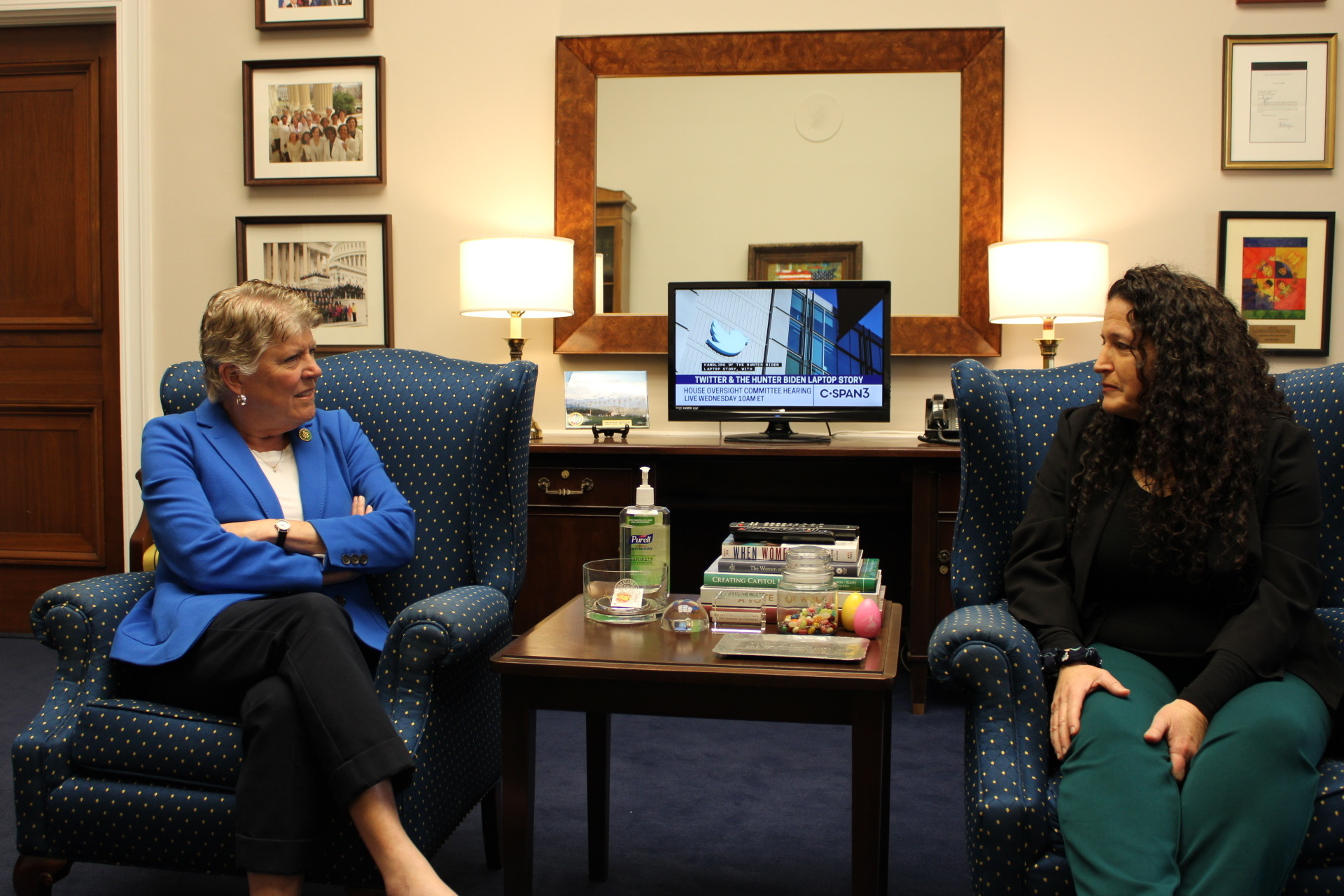 Shannon Klemann | Moorpark Acorn
"Would you like to attend the State of the Union Address?"
This was the message waiting in my inbox from an ex-student who is interning for U.S. Rep. Julia Brownley, who had invited me to be her guest at this historic event as 2022 Ventura County Teacher of the Year.
The State of the Union was taking place Feb. 7, so, to maximize my time in Washington, D.C., I traveled on the Saturday before.
I logged about 30,000 steps on Sunday, touring the impressive Botanical Gardens and the Washington Monument and spending a significant amount of time and emotion journeying through African-American history in the newest Smithsonian museum. In the evening, I caught a moving choral tribute to Martin Luther King Jr. at the majestic Kennedy Center.
Having somewhat mastered the public transportation system, I ventured out to the National Zoo, where I practically had the place to myself. I was in search of one animal in particular.
My students learn about the Panamanian golden frog when we read "The Sixth Extinction." These frogs can now only be found in captive breeding programs due to the devastating chytrid fungus. The National Zoo has a really impressive educational display about the chytrid fungus, and I was elated to get to experience this charismatic and symbolic animal.
The day of the main event came. I had the opportunity to tour the Capitol with an intern from Simi Valley and to take a self-guided tour of the National Archives.
My 1:30 p.m. appointment was with the congresswoman herself. She and her staff put me right at ease as we discussed issues in education, the environment and the upcoming proceedings.
The Capitol was buzzing with activity and security.
I excitedly ran to my hotel room to don my new Camarillo Blue blazer and headed back to the Capitol.
I now understand that each party hosts a reception before the event with hors d'oeuvres and great conversation. As minority leader, Hakeem Jeffries hosted the Democrats. As the first African-American to hold the position, Jefferies was deservedly in high demand by members and their guests for photo ops.
I met so many interesting people that night. The congressional members were kind and gracious. Each was allowed one guest, and there were so many reasons these guests were invited.
I met soldiers instrumental in passing legislation extending veterans' benefits for burn pit exposure. I met the mothers of children who had been victims of violence. I met two women scientists, one of whom was recently on "60 Minutes," innovating fusion as a potential power source. I got once-in-a-lifetime photos with Brownley, Jeffries, Nancy Pelosi and Pete Buttigieg, and the main event hadn't even begun.
Guests were supposed to be in their seats an hour before the start and were required to relinquish all electronics to a check-in counter to undergo a final security check.
Brownley and I temporarily parted ways at this point, and I proceeded to the assigned seat on my "golden ticket" (as I heard people calling it).
I was on the balcony almost directly across from first lady Jill Biden's section and its eclectic mix of heroes, including Bono, Brandon Tsay (who wrested the gun from the shooter in Monterey Park), and Tyre Nichols' mother. I was a part of the crowd that stood and recognized these heroes.
Being there in that room felt monumental and important. I watched our senators and Supreme Court justices majestically file in. I was in the room when the president was announced and greeted people on his path to the podium.
The electricity in the room was palpable as the president delivered the 2023 State of the Union Address. I was standing and sitting, applauding and cheering, witnessing history. It is one of the most amazing things I have ever had the opportunity to experience.
I would like to thank Julia Brownley and her staff for making it possible for me, a humble biology teacher from Camarillo, to witness the inner workings of the country I love.
I am proud to have been the representative of my county and my beloved profession. In doing so, and while I have a platform, I would like to recognize that there are so many deserving educators and administrators that go above and beyond for students each day.
Having been in the "Room Where it Happened" and the people I met along the way have left an indelible mark on my life's journey. My first order of business is to humbly ask you to thank an educator today.
This story was originally published by the Moorpark Acorn on February 18, 2023.
Issues: 118th Congress, Education