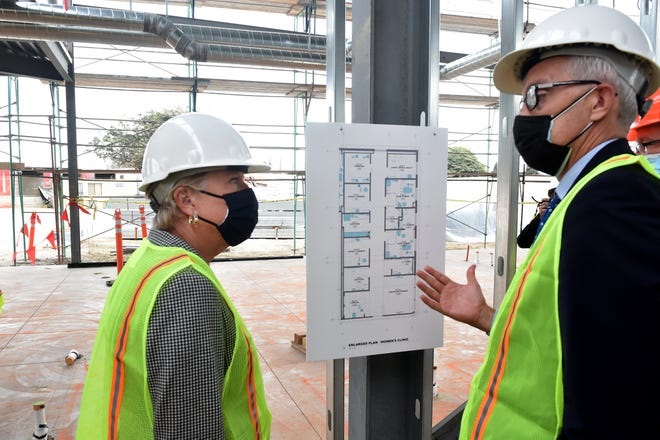 By Wes Woods II | Ventura County Star
A Ventura veterans clinic scheduled to open in summer 2022 will feature a special entrance for female veterans, a first of its kind in the region.
Officials believe the Ventura Veteran Affairs Community Based Outpatient Clinic has the capacity to serve as many as 9,600 veteran patients.
Denis McDonough, the U.S. secretary of Veterans Affairs, and Rep. Julia Brownley, D-Westlake Village, took a guided tour of the under-construction Ventura Veterans Affairs Community Based Outpatient Clinic Thursday. The site on Ralston Street is the former home of the Ventura County Star, now located in Camarillo.
"This is really exciting – a long time coming," McDonough said. "There's a lot of vets in Ventura County. We have as many as 50,000 vets in the county."
McDonough, Brownley and a small group of workers donned hard hats and safety vests to go inside the construction area of the 50,000-square-foot clinic.
Brownley said the facility would be completed sometime in April but Veterans Affairs has to move in and likely won't start serving veterans until summer.
"It's getting closer and closer," Brownley said.
Robert Merchant, executive director of ambulatory care services for VA Greater Los Angeles Health Care System, was one of the tour guides through the 8-acre site.
Before the tour, he told McDonough and Brownley the clinic would be operated by Veterans Affairs staff with mental health and relaxation components. This facility will replace a smaller clinic in Oxnard.
"The new facility is a terrific improvement on what we're currently offering in Oxnard," said Merchant, adding it would be able to serve about 3,000 more veterans.
The Ventura Planning Commission in 2020 approved the clinic but a Pasadena attorney filed an appeal on behalf of a labor union representing thousands of carpenters. The appeal centered on noise and air quality concerns.
The Ventura City Council unanimously rejected the appeal, thereby allowing construction of the clinic to move forward.
Some services geared specifically for female veterans
McDonough said the new facility has the capacity to treat about 9,600 veterans with some services geared specifically for women.
"In California, which is the biggest veteran-producing state, about 10% of the veterans are women and that number is only going to grow," McDonough said. "The active-duty force is increasingly women. The makeup of our veteran cohorts over time is obviously also going to become increasingly more women. So we have to get to a position where women vets get a full range of care."
Brownley, chairwoman of the House Veterans Affairs subcommittee on health, said the separate entrance will be the first one in the Ventura/Santa Barbara/Los Angeles area.
McDonough said he was impressed with the proposed facility but added this is what veterans and taxpayers should expect.
"I'm impressed but also happy to see we're building world-class facilities that house our world-class clinicians and that ensures that women vets and frankly all vets feel welcomed here and not only feel welcomed but get world-class care," he said.
Special care services to be provided for all at the facility include dentistry, cardiology and podiatry, Brownley said.
"To be able to have dentistry here is a big deal," she said.
Brownley said the facility will be named after a female veteran who served at the naval base in Port Hueneme and has since died. Brownley did not disclose the name of the veteran but it will be revealed in a future ceremony.
Originally appeared in Ventura County Star on October 8, 2021