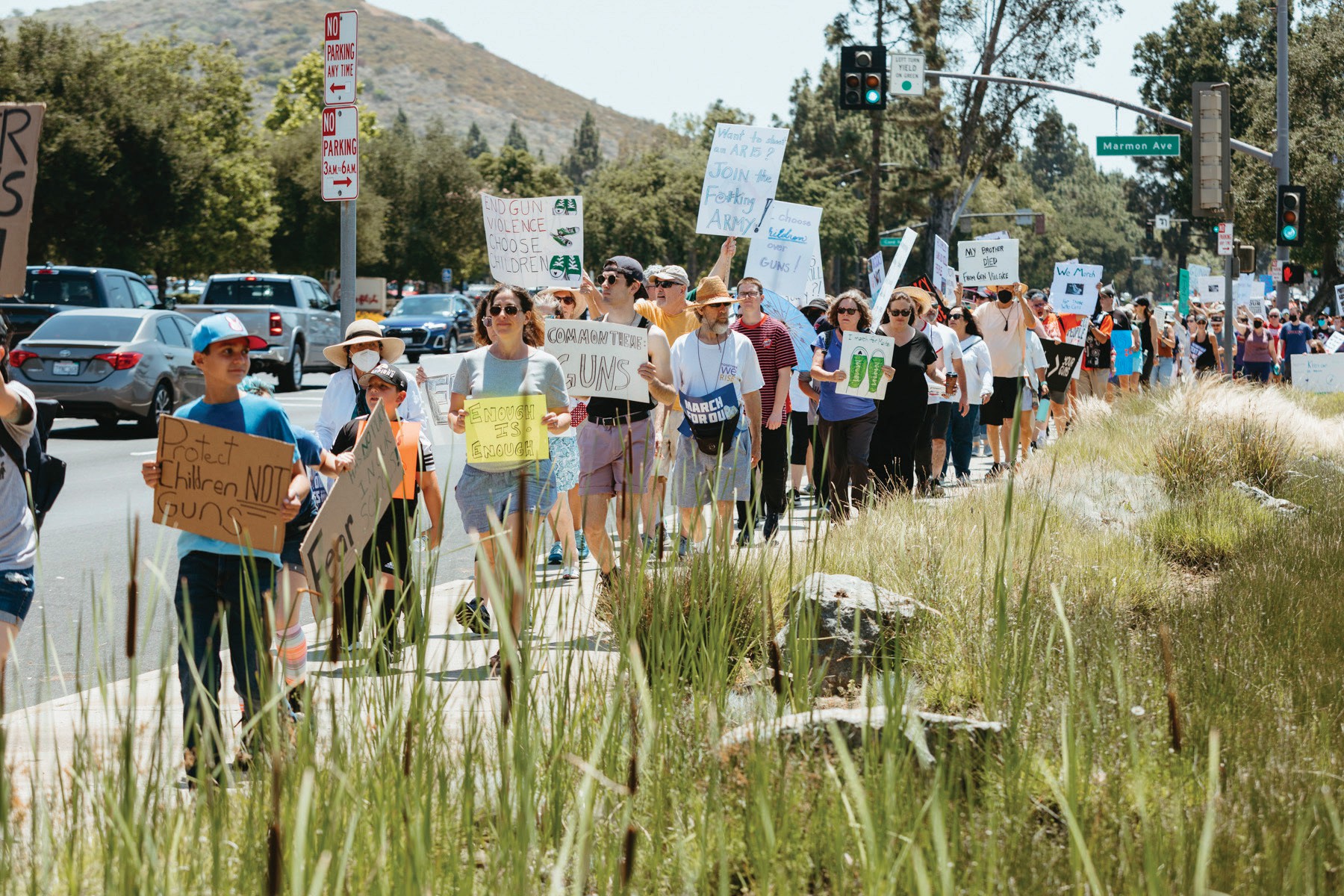 Thousand Oaks Acorn | Dawn Megli
When elementary school teacher Brynn Hutchinson goes through active shooter drills with her class, students often have questions. They ask what they should do if the shooter manages to get in the room or where they should hide if they're in the bathroom when the shooting starts.
"We've talked about standing on the toilet to get your feet up," she said. "It's horrible. It's upsetting that they have to think about things like that. It's not something that should ever be on their radars."
Hutchinson was one of over 300 protesters who participated in the March for Our Lives in Thousand Oaks last week. The gun control demonstration was held in response to the school shooting in Uvalde, Texas, on May 24 that left 19 students and two teachers dead.
"I was upset after Sandy Hook (school shooting in 2012), and nothing happened after Sandy Hook, and if we could all watch first-graders be killed and not do anything about it, now I'm angry," Hutchinson said.
The march, which traveled from the Westlake Promenade to Thousand Oaks City Hall, was one of a series of marches nationwide calling for action against gun violence.
Demonstrators carried signs that said "Kids can't be replaced," "Protect kids not guns," "My dress code is stricter than your gun laws" and "We march for those who can't." One teen held a sign reading "Thoughts and prayers won't save me."
Another marcher wore green Converse sneakers with a heart on the right toes in honor of 10-year-old Uvalde victim Maite Rodriguez, whose parents had to identify their daughter's body by her shoes.
March organizer Molly Salmon, a 44-year-old Thousand Oaks mother of two elementary school-age children, said she hopes the widespread marches will spur Congress to take basic action, which she said includes universal background checks and red flag laws.
"After the shooting in Texas, I was heartbroken and horrified, but the overwhelming feeling was rage," she said. "I was just furious at our politicians for not doing even the most basic things to keep us safe."
Amelie Etheridge, 16, is an incoming junior at Newbury Park High School. She said news of each school shooting gives her "an anxiety spike."
"It makes me scared wondering if it'll happen to me someday, and the idea of that is horrifying to me," she said.
Her 12-year-old brother, Blake, said he assumes another school shooting is a matter of when, not if.
"They're going to come here eventually, so we should stop it as soon as possible," the Sequoia Middle School student said.
Their mother, Angie Wheeler Etheridge, said their family was thinking about moving abroad due to the prevalence of gun violence in America, but she said she has hope that the horror of Uvalde might spur change, unlike the inaction after the shooting at Marjory Stoneman Douglas High School in Parkland, Florida, that left 17 students dead.
"We marched in 2018 after the Parkland shooting," she said. "I didn't think I'd have to be here again."
Thomas Duncan, trauma medical director at Ventura County Medical Center, was among the speakers who addressed the crowd at City Hall. He said the epidemic of gun violence in the United States is a public health issue that caused 45,000 deaths nationwide last year. In 2020, gun violence was the No. 1 cause of death of children and teens in the U.S.
Duncan was one of several speakers who invoked the memory of the mass shooting at the Borderline Bar and Grill in Thousand Oaks in 2018, which left 12 victims dead.
"Healthcare professionals can repair destroyed organs and injured tissue caused by firearms, but we cannot bring the dead back to life," he said. "We need to address gun violence in the same manner we tackled seat belts. We tackled seat belts about 30 years ago in a major way and have caused a major decline in the injuries and deaths secondary to car crashes."
Assemblymember Jacqui Irwin told the crowd several gun measures are sitting on Gov. Gavin Newsom's desk, including legislation that would ban gun shows at the Ventura County Fairgrounds and prohibit parts used to build so-called ghost guns at home.
"What kind of country do we have when young, innocent children and adults are slaughtered and as a nation we do nothing? We must demand federal action," she said. "We cannot have a country that favors weapons of mass destruction over children."
U.S. Rep. Julia Brownley said the House passed a package of gun control bills to the Senate, including raising the age to buy semi-automatic weapons, outlawing high-capacity magazines, enacting red flag laws and closing the loopholes on ghost guns, which are made from parts bought online and can't be traced because they don't have a serial number.
Brownley said if the Senate approves any bills from that package, it will be the first time Congress has passed a gun control law since 1994, when it banned semi-automatic weapons. The ban expired in 2004.
Before the march started, Sarine Krovitz, an Agoura High School graduate who attends Duke University, said 19 children are dead in Uvalde because the people in power didn't listen to calls for gun control after the school shootings in Parkland, Sandy Hook and Columbine, which happened 23 years ago—four years before Krovitz was born.
"They will listen now," she said. "Because we will not be silent."
This story originally appeared in the Thousand Oaks Acorn on June 17, 2022.