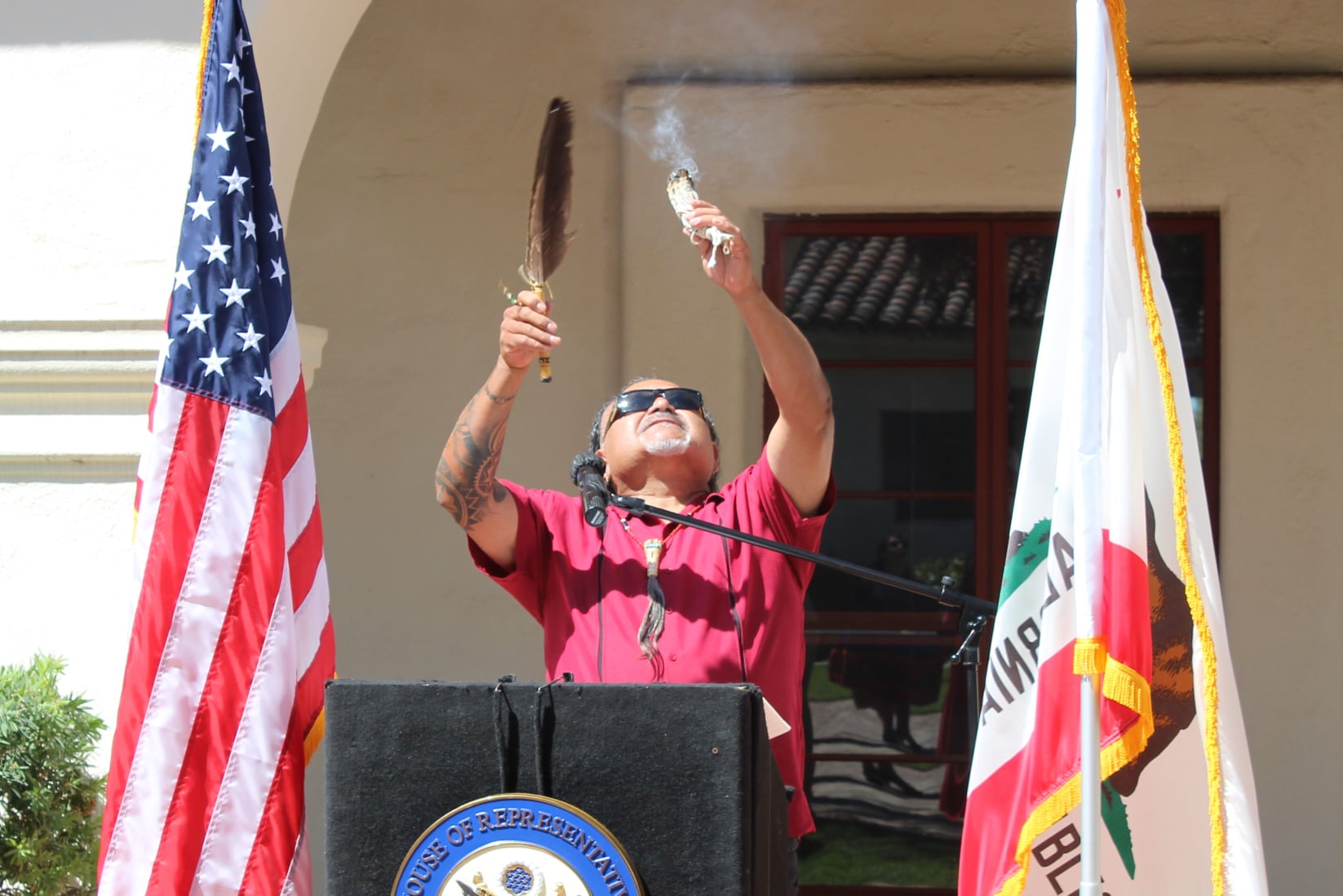 Makena Huey | The Camarillo Acorn
The scent of sage filled the president's courtyard April 21 as U.S. Rep. Julia Brownley presented California State University Channel Islands with a $250,000 check to create an Indigenous studies program.
The ceremony began with a blessing from Raudel Bañuelos, a Chumash elder and the university's Chumash cultural advisor. Waving an eagle feather over the burning herbs, he honored his creator, his ancestors and the four directions: the east and the west, the north and the south.
Acknowledging the Barbareño and Ventureño Chumash who once lived on the land where CSUCI stands was a theme throughout the event.
"This program will allow the voices of Indigenous people to be centered and heard in an academic space," Brownley said during her speech. "It is a narrative that has been historically missing in American colleges and universities. We must rectify this, and we are doing it right here."
The new curriculum will focus on Indigenous history, culture, arts, language and natural resources.
"I could not think of a better institution of higher learning to house such an important and necessary curriculum," said Brownley, who secured $27 million for nine community projects to benefit Ventura County.
Mitch Avila, provost and vice president for academic affairs, said establishing the program will take time.
Starting in the fall, the school will use the federal funds—signed by President Joe Biden on March 15—to search for, hire and train faculty. Staff will need to buy additional resources for the library and pilot the courses.
Most importantly, administrators said, the university will begin by consulting the Chumash community to develop the curriculum.
"We want to create a signature academic program in Native American studies and Indigenous studies that advances racial reconciliation, supports inclusive excellence and helps to right the scales of economic justice," Avila told the audience. "To do that, we have to begin by acknowledging the ways in which the voices and histories of Native Americans in California have too often been erased."
CSUCI President Richard Yao agreed that, no matter how challenging, communicating with Indigenous voices will be critical to the success of the program and its students.
"We do not shy away from our identities, our narratives and our lived experiences. . . ." Yao said. "Moving forward with this work will test our ability to stay culturally responsive as we engage our campus and community in this process."
Though he has been involved in his culture since childhood, Bañuelos said, he has often been taught an alternate version of history. That is why he appreciates CSUCI's continued partnership with Chumash residents.
"As we grow as a people, we need to know the true history and we need to know mistakes that we've made," he told the Acorn. "You need to know the history of the place that you learn and, a lot of times, live to respect the culture."
The university stands on land that once housed the Camarillo State Hospital, where Bañuelos worked for nearly two decades. He said he feels proud to not only witness but also be involved in the university's progress.
"I've been on this land of my ancestors for 40 years," Bañuelos said. "It's always been a dream of mine to eventually have Native American studies, and it's come true."
Eleanor Arellanes Fishburn is a first-year anthropology student at CSUCI. Both Barbareño and Ventureño Chumash, she said she understands how harmful a lack of education can be.
"What is lost is the truth, and . . . as painful as the truth is and can be, the truth always prevails," Fishburn told the Acorn. "What is missing is Indigenous histories on the local land we walk and work and play on."
She plans to contribute to the formation of the Indigenous studies program and earn a degree from it once it is developed.
"Today is so important because it's the start of a new era," she said. "It's time that we make our amends and honor those that suffered and persevered prior to us being here today."
Before concluding the event with another blessing, Bañuelos presented Brownley with a bundle of sage, which he said would bring her positivity in her future endeavors.
Brownley said she will continue prioritizing her advocacy of the Ventura County community, including the Chumash community.
"This is their land, and bringing these communities together is so very important in understanding each other's cultures," she told the Acorn. "It strengthens the community in ways that are hard to define until you do it."
This story originally appeared in The Camarillo Acorn on April 29, 2022.