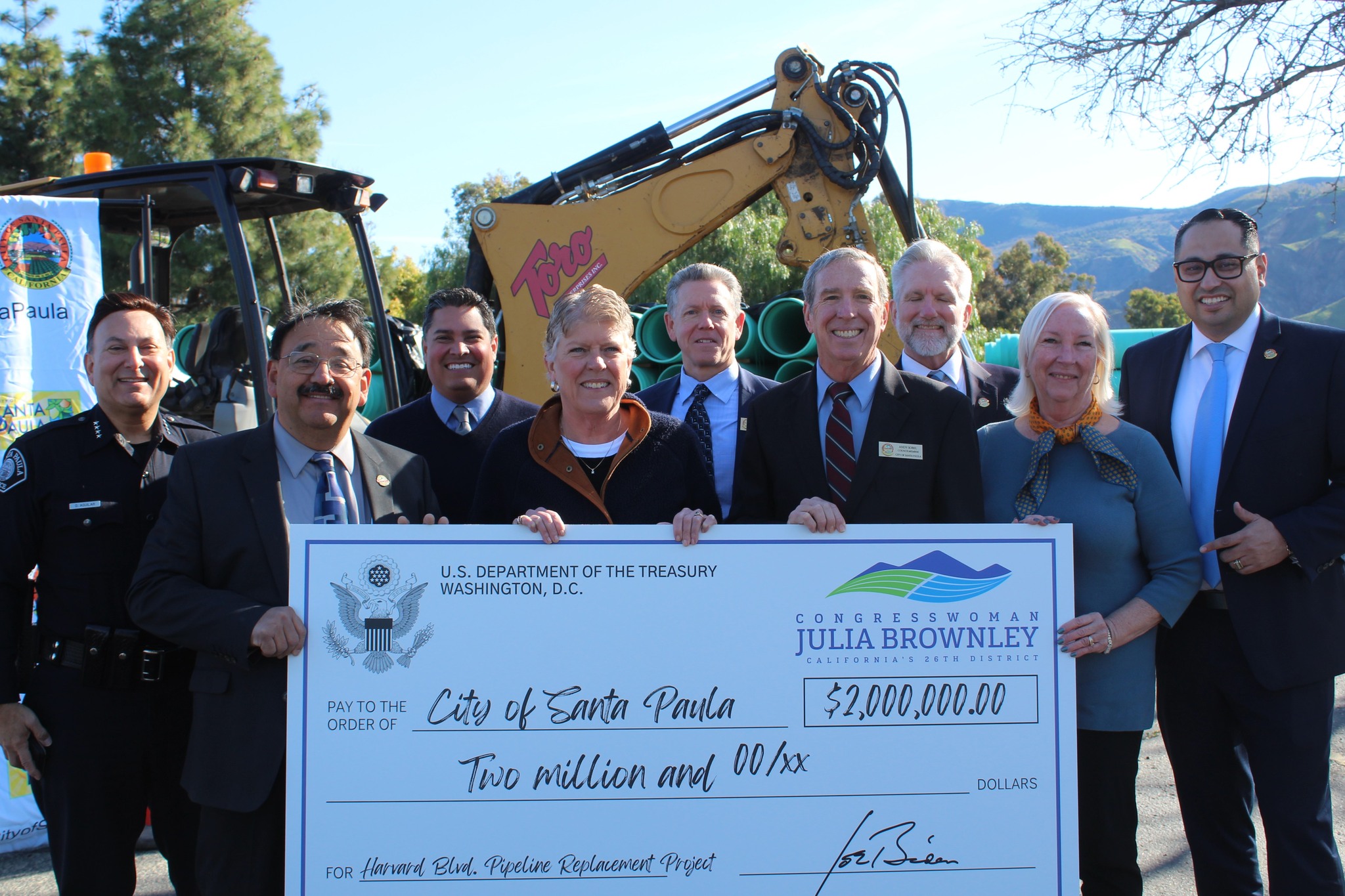 Wes Woods II | Ventura County Star
The city of Santa Paula has received $2 million in federal funds for a Harvard Boulevard street improvement project that will include new paving, striping, curb ramps and water and sewer pipelines to be completed next year.
On Wednesday, Rep. Julia Brownley, D-Westlake Village, presented a check to city officials at the project site on Faulkner Road.
A federal omnibus spending bill on Dec. 29 included $28.9 million for 17 different projects in Ventura County. Brownley presented checks for multiple projects around Ventura County this week.
In Santa Paula, the pipelines need to be replaced with more modern materials, city officials said. A quarter mile of water pipeline and a fifth of a mile of sewer pipeline will be installed using the grant funding. When complete, the overall project will replace about a mile of sewer and 1.6 miles of water pipes.
The project's total cost is more than $18 million, including construction, contingency and management costs, said management analyst and city spokesman Jonathan Royas.
The completion date is estimated for February or March 2024, Royas said.
The federal funds are designed to support the water and sewer infrastructure improvements but not the paving, said City Manager Dan Singer.
"In essence, the $2 million will help lower the costs that ratepayers will have to come up with to pay for this needed upgrade," Singer said in an email, referring to the city's water and sewer customers.
The work will be done along Harvard Boulevard from Tenth Street to Peck Road.
In September 2022, officials began acquiring thousands of feet of pipeline and researching existing utilities in preparation to start construction.
In February, sewer pipeline will be installed at Harvard Boulevard and Acacia Road. Afterward, a water line will be put in place. The project will be completed with new paving and striping along Harvard.
This story was originally published by the Ventura County Star on January 20, 2023.
Issues: 118th Congress, Local Issues, Transportation and Infrastructure