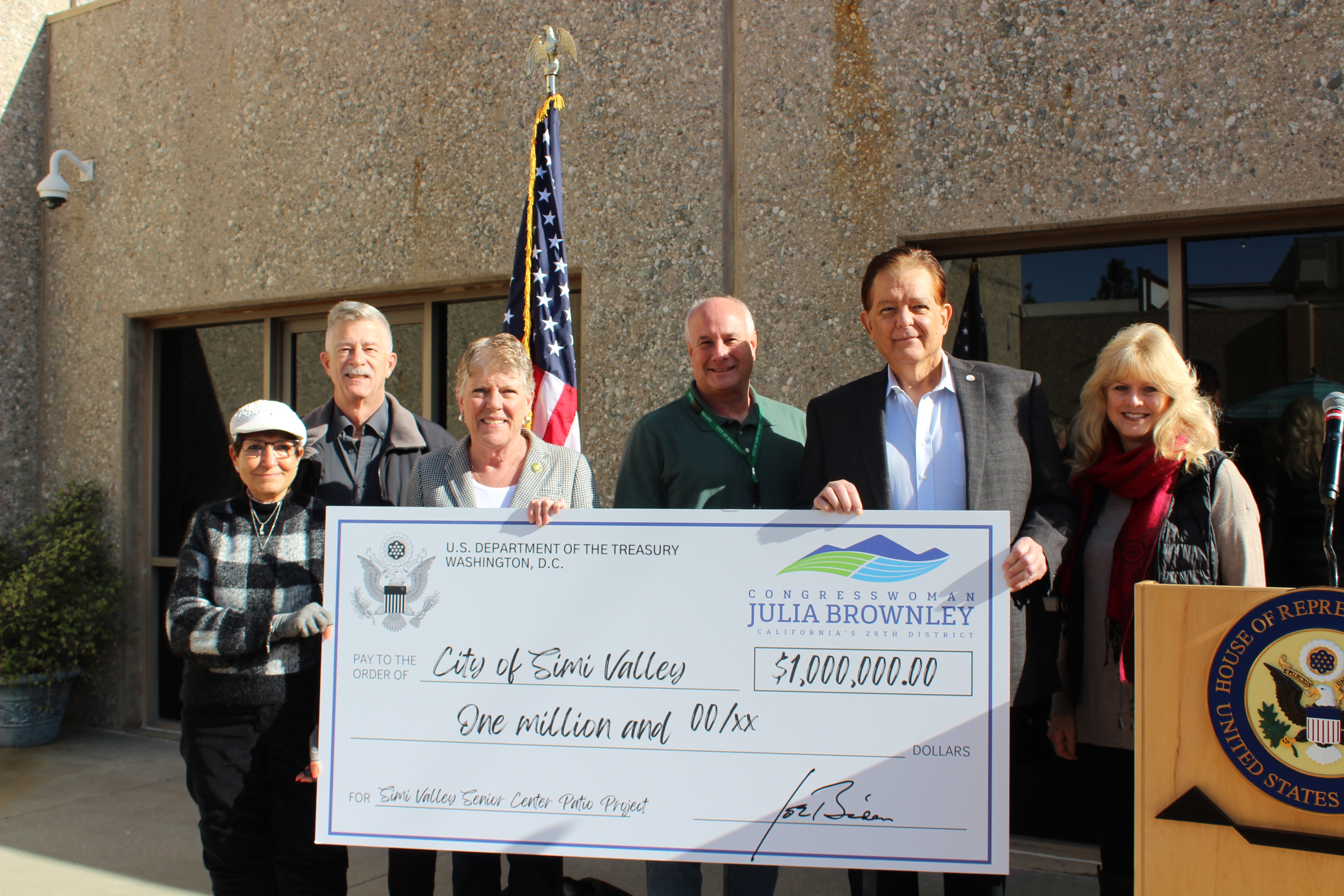 Michele Willer-Allred | Simi Valley Acorn
Seniors can soon enjoy outdoor activities while being protected from the elements year-round at the Simi Valley Senior Center.
U.S. Rep. Julia Brownley presented a ceremonial $1 million check to the city Jan. 20 to build a new cover over the center's 3,500-square-foot patio.
The patio cover is one of 14 Ventura County projects and programs, totaling some $20 million, that are being funded as part of the 2023 Consolidated Appropriations Act, which President Joe Biden signed Dec. 29.
"With this funding, the patio cover that the city has long envisioned will finally come to fruition, creating a more comfortable outdoor space to all of the users of the center," said Mayor Fred Thomas, who accepted the check on behalf of the city.
"I hope we will see more seniors come back to the center . . . (and) see programming outside when the project is complete," Thomas said.
There was a chill in the air when the check presentation was made.
"Maybe the idea of being outside doesn't seem so appealing on a day like today," Brownley noted, "but when temperatures begin to warm again this patio will help our Simi Valley seniors enjoy many activities outdoors in the fresh air."
Angel Serra, manager of the senior center, said having a patio cover will allow the center to expand its programs.
Serra said he'd like to see the venue maintain a kind of open-air atmosphere, where it is still outdoors with sunshine coming through, but out of the elements. He said that right now, the center is limited as to what it can offer outdoors, especially in summer.
String lights currently hanging above the outdoor patio are also a temporary solution and not sufficient to illuminate outdoor events at night, he added.
Serra said the patio cover, as well as new lighting, will allow the senior center to host events in the evening during colder months.
Securing the funding was the first step, and now an architect will produce conceptual plans that will go to the City Council for approval. Seniors will have a chance to weigh in, too.
"We want to make sure we're meeting the needs of the seniors and make sure the seniors are happy with whatever happens here," City Manager Brian Gabler said.
The conceptual design process will take between three to six months, he said, and the final cost will be determined once a preferred design is chosen.
After the plans are OK'd and the project goes out to bid, it could take another six months to construct the patio.
"I think realistically we could have this done in 18 months," Gabler said.
Gabler told the Acorn the city expects to use the full $1 million to design and construct the patio, which will include lighting, wind baffles, acoustical treatments, tables, seating, a speaker system, and other amenities
"This is not a simple patio cover that hangs off a house," he said. "This patio is roughly 60 feetby 60 feet, (and) spanning that length will require steel beams which will need to be structurally supported with large footings."
Sally Sabet, who started coming to the center in 2009, said the idea of adding a patio cover was first brought up around 10 years ago, but plans appeared to fade away due to a lack of funding.
Sabet said she was excited to finally see the money materialize.
"When it rains, nobody comes here. We are the windy city, and we can't come here during that time either. With the patio cover, we can definitely enjoy it more," she said.
In addition to funds provided for the patio cover, Simi will receive about $1.6 million from the federal government for a sewer line project near Easy Street. Funding for other projects in the region include $4 million for replacing the bridge at Las Posas Road and Ventura Boulevard in Camarillo; $1.8 million to install a microgrid at the Municipal Service Center in Thousand Oaks; $750,000 for the new Moorpark City Library; and $300,000 for a work-based cybersecurity program at Moorpark College.
This story was originally published by Simi Valley Acorn on January 28, 2023.
Issues: 118th Congress, Seniors' Issues, Transportation and Infrastructure