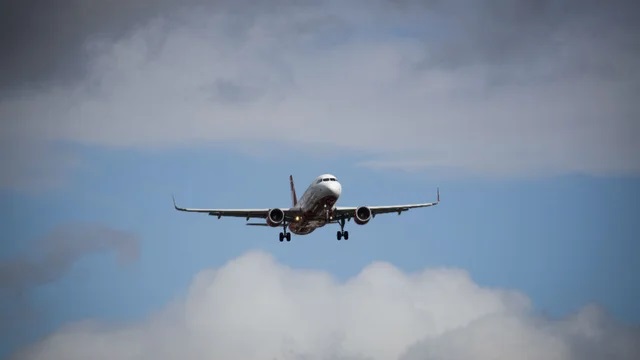 As we make strides on the path to recovery from the COVID-19 pandemic, the aviation industry is set for a comeback. That's a good thing for an industry that has suffered tremendously, including losing tens of thousands of jobs. In fact, the Transportation Security Administration (TSA) has reported that more than 1 million passengers have been screened at U.S. airports in recent days. While I am cheering on the industry and hope that it recovers quickly, part of that recovery will include returning to pre-pandemic levels of carbon emissions.
Aviation already contributes over a billion tons of carbon dioxide annually, and that number will only get worse without intervention. Global air passenger traffic is expected to double from its pre-pandemic peak by 2035. While aviation is still reserved for those with means, aviation accounts for 9 percent of the entire U.S. transportation sector's greenhouse gas emissions. Even though the transportation sector has seen great strides in technological advances to reduce greenhouse gas emissions via electrification, and I support the Biden administration's efforts to electrify our highways, air travel is a very long way away from being able to use these innovations.
Fortunately, another option exists that can greatly reduce carbon emissions from jet fuel, and Congress has a prime opportunity to act on it in the upcoming infrastructure package. That solution is sustainable aviation fuel.
Sustainable aviation fuel, or SAF, is a proven liquid fuel alternative to fossil jet fuel that is made from sustainable feedstocks and meets safety requirements. It is a drop-in fuel, which means that it can be blended with fossil jet fuel without needing to replace aircraft or retrofit fueling infrastructure. More than 200,000 flights have flown with SAF in their fuel tanks since 2011, so we know it works.
Zero-emission aviation technology, such as electrification or hydrogen fuel cells, is likely still decades away from viability at commercial scale. For the foreseeable future, the aviation industry will continue to be reliant on liquid fuels. Environmentalists, airlines, fuel producers and researchers agree that SAF is our best near- and medium-term solution to decarbonize the aviation industry. Depending on the feedstock and process used, SAF can achieve carbon reductions of up to 80 percent compared with fossil jet fuel.
The challenge is that SAF is in its infancy as a commercial product. Only three SAF production facilities are currently operating worldwide; however, several others are undergoing construction and many more are in the planning stages. The industry is hoping to replace 1 percent of total jet fuel consumption within the next five years.
But this is not nearly fast enough to achieve our long-term goals to address the climate crisis. In order to scale up commercial availability of SAF at the pace it requires, focused federal policy will be necessary.
That is why I introduced the Sustainable Aviation Fuel Act (H.R. 741), which would jumpstart SAF production and mitigate distribution challenges. My bill includes a new blender's tax credit, which is necessary to incentivize SAF production and allow it to compete on a level playing field with renewable diesel, a similar product that is produced with the same feedstocks but is used primarily for ground transportation.
Renewable diesel is marginally cheaper to produce and enjoys incentives that SAF does not. However, ground transportation has better options to decarbonize than aviation does, primarily through electrification and fuel cells. Given that these types of technologies will not be viable for aviation anytime soon, it is important to prioritize these feedstocks for SAF as quickly as possible.
The value of the blender's tax credit in my bill is also pegged to emissions reductions. The higher the emissions reductions, the larger the credit, thereby encouraging production toward the most sustainable, cleanest types of fuel.
My bill also includes an investment tax credit and grant program to help spur investment in the infrastructure needed to produce, transport, blend and store SAF.
There is also expanded research funding to push the aviation industry toward becoming a zero-emission sector, as well as military procurement requirements to put the federal government's money where its mouth is by requiring that at least 10 percent of the military's aviation fuel is U.S.-produced SAF by 2024.
Lastly, the Sustainable Aviation Fuel Act would elevate California's Low Carbon Fuel Standard (LCFS) to the national level for the aviation sector. California's success with its LCFS shows that implementing a similar national standard would be a major step in achieving deep, long-term reductions in greenhouse gas emissions from fuels.
As President Biden told the nation, now is the time for America to invest in a clean economy that will create millions of good jobs and preserve our planet for generations to come. Cleaning the aviation industry is an important aspect of that goal, and the Sustainable Aviation Fuel Act can help us take flight.
Originally published in The Hill.
Issues: 117th Congress, Energy and Environment, Op-Eds, Transportation and Infrastructure