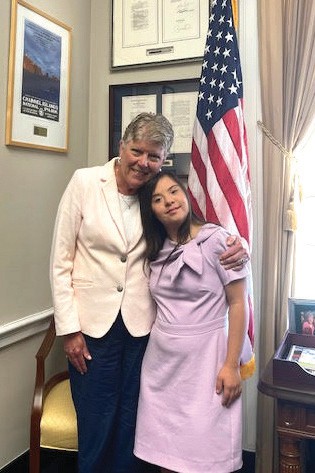 The Acorn
Isabella Hass, 15, went to the nation's capital April 19 to advocate for the rights of people like her with Down Syndrome.
The Westlake Village resident visited the office of Sen. Alex Padilla and talked with Priya Amilineni, the health legislative correspondent in Padilla's office.
Isabella also met with Rep. Julia Brownley from California's 26th District and shared with her hopes for a fulfilling life with the same rights as any other teen.
The main topics discussed were: Charlotte Woodward Organ Transplant Discrimination Prevention Act,
Transformation to Competitive Integrated Employment Act,
Inclusion of the Down syndrome community in Alzheimer's disease initiatives,
Support for the Include Project Research Plan at the National Institute of health, and The Congressional Task Force on Down syndrome.
Isabella is a Down syndrome advocate and has been featured in USA news and People Magazine.
This story was originally published by the The Acorn on May 12, 2023.
Issues: 118th Congress, Healthcare