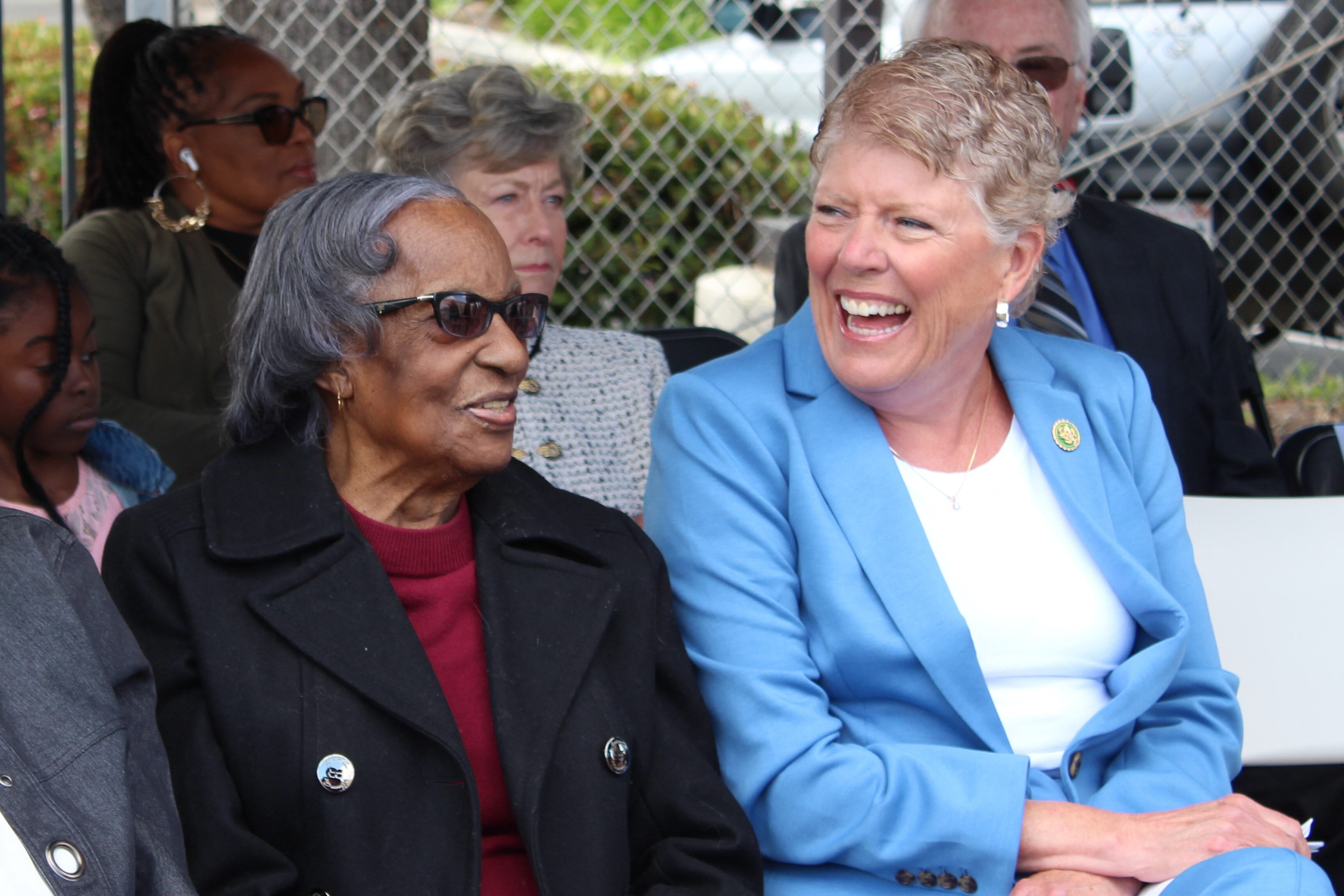 Oxnard, CA – On Tuesday, May 2, Congresswoman Julia Brownley (D-CA) delivered the following remarks at the designation ceremony for the newly renamed "John R. Hatcher III Post Office Building," located at 1961 North C Street in Oxnard, California:
Thank you, Scott, for your kind words and introduction – and for being here this morning to celebrate the life's work and legacy of John R. Hatcher III.
Known by many as John R., JHR III, a loving husband, a doting father and grandfather, a pillar of our community, a giant in the Civil Rights Movement, I knew him as a changemaker and a true champion for justice and equality.
What can be said of John R. that hasn't already been said by those here today?
John R. Hatcher III was a remarkable man – and so many of us were fortunate to know him and be in the sphere of his presence, which was genuinely impressionable.
Throughout my career in Congress, I have had the great fortune to meet and work with heroes, American heroes and icons of our nation's Civil Rights Movement, including my dear friend and colleague, the "Conscience of Congress" the late John Lewis.
In 2015, I had the honor of joining John Lewis to commemorate the 50th anniversary of "Bloody Sunday" and cross the Edmund Pettus Bridge in Selma, Alabama. On this trip, John recounted pivotal moments of the Civil Rights Movement, including the Birmingham Campaign.
As many of you may know, Birmingham was the birthplace of another beloved civil rights activist, who we know as John R. Hatcher III. From Birmingham came one of the most historic documents of moral responsibility and civil disobedience. In 1963, Dr. Martin Luther King, Jr. wrote a call to action and penned the famous words: "Injustice anywhere is a threat to justice everywhere," in his "Letter from Birmingham Jail."
It is no coincidence that from the City of Birmingham was born an open letter that spurred a movement and a cause so much greater than ourselves, and from Birmingham was also born a great man like John R. Hatcher III, who answered the call to defend his fellow Americans' civil rights and liberties.
It is hard to encapsulate the work of a lifetime of someone like John R. Hatcher III in a few words. It is even harder to measure the impact of his legacy today.
For many of us who knew him and worked alongside him, we saw firsthand the transformative impact this man and his leadership had upon our community. For over 60 years, when he saw injustice, he gave voice to fight against it. When he witnessed inequality, he took action to fight against it.
He was an American patriot, who understood that the ideals upon which this great nation was founded were not guaranteed to everyone – and he was unwavering in his work to change just that.
Today, we pay tribute to John R. Hatcher III and we stand before a community culture centerpoint that bears his name – and stands as a memorial to a legacy of activism for what is just and what is right.
When I first spoke to JoAnne and the Hatcher family about this effort to recognize John R., we knew then it wouldn't be an easy task – because like most things that are near to our heart and we care so profoundly about, we know that the path is never easy.
But we were tenacious – inspired by John R. himself and his work and what he fought for.
Over a year later, the resolution that sought to name this building after John R. was sent to President Biden's desk and enacted into law – and catapulting us to this moment in the history of Ventura County.
And from this moment forward, let this building dedicated to one of our community's champions continue to serve as inspiration to those who knew him and, more importantly, let the generations that follow us know that the road to justice and equality runs through Ventura County and was paved by John R. Hatcher III.
---
Background on the John R. Hatcher III Post Office Building
The son of a civil rights leader in Birmingham, AL during the Jim Crow era, John R. Hatcher III followed in his father's footsteps and spent his life fighting for equality. Hatcher was a member of the NAACP for more than 60 years, nearly four decades of which he served as president of the Ventura County Chapter, in addition to eight years as the NAACP Southern Area president covering six states.
Hatcher was a veteran of the United States Air Force, serving more than 22 years before working as a civil servant for the Department of the Navy. A recipient of the African-American Achievement Award at California State University, Channel Islands, Hatcher aided in the establishment of the Ventura County African-American Chamber of Commerce, Tri-County Sentry newspaper, and naming the Thurgood Marshall School in the Oxnard School District.
In October 2021, Congresswoman Julia Brownley introduced legislation to designate the U.S. Post Office located at 1961 North C Street in Oxnard, California as the "John R. Hatcher III Post Office Building." The bill is supported by John R. Hatcher III's family and the Ventura County Chapter of the NAACP.
President Biden signed the bill into law on December 27, 2022.
Photos from the event can be found here.
###
Issues: 118th Congress, Local Issues