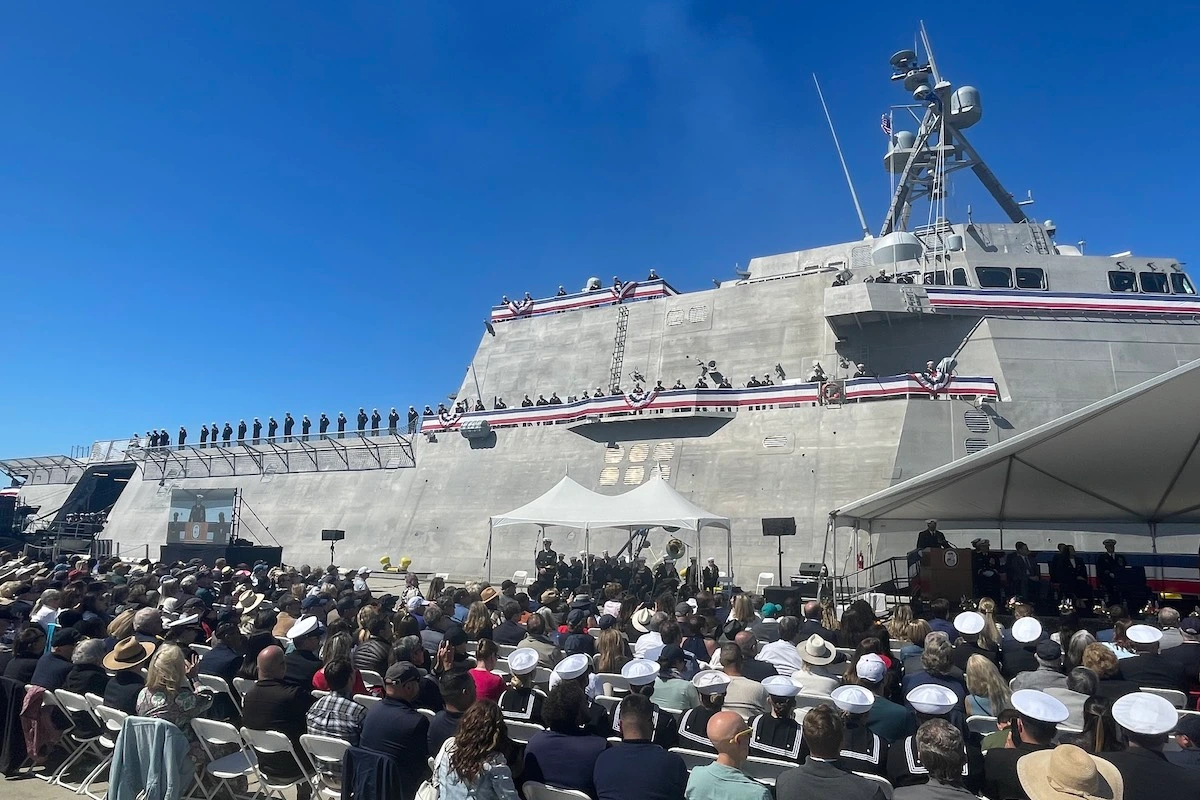 Callie Fausey | Santa Barbara Independent
S.B. Mayor and City Councilmembers Among Those in Attendance at Saturday's Commissioning in Port Hueneme
Smoke billowed from the USS Santa Barbara LCS-32 on Saturday, April 1, signifying the littoral combat ship becoming a living, breathing entity after it was commissioned into the U.S. Navy at Port Hueneme in Ventura County.
The elaborate ceremony attracted a crowd that wrapped around the pier, seemingly itching to see the ship that was given the Santa Barbara name in 2018 finally come to life and take the place of her predecessors.
"Now, the orders we have all been waiting for for over four years," announced Lolita Zinke, the ship's sponsor. "Officers and crew of the USS Santa Barbara, man our ship and bring her to life!"
At Zinke's command, the ship's 70-person crew ran aboard. On their way to line up on her deck, the sailors passed by the many guests in attendance, including Santa Barbara Mayor Randy Rowse, former fighter pilot and prisoner of war Captain Charlie Plumb, Congressmember Julia Brownley, Santa Barbara city councilmembers, uniformed naval officers, and family members.
Just inside the large, 3,400-ton aluminum ship's mission bay stands the ship's bell, which is modeled after the bells in the Santa Barbara Mission's bell towers. The small, golden bell features the ship's crest, which serves as a reminder of her namesake and her motto: "Resilient and Determined," fitting for a city that has survived mudslides and wildfires.
"How cool is it that we're getting our own boat? Really good stuff," joked Mayor Rowse to start off his ceremonial speech. "The City of Santa Barbara is generally known for its outstanding beauty … but beneath that glorious veneer is a population that, over time, has shown resilience and determination in the face of natural disasters."
The former USS Santa Barbara — the second ship to bear the city's name — was an ammunition ship that was retired in 2005 after more than 30 years in service; the first was a single-screw steel freighter commissioned in 1918 and sunk by a German submarine in 1942 during World War II.
Although Santa Barbara's newest naval namesake was commissioned on April Fools' Day, the ship is no joke. The current USS Santa Barbara marks a new generation of navy vessels — the fast, agile ship is propelled by water jets and can reach speeds of more than 40 knots, with the ability to make a full stop at about 600 yards from full-speed-ahead.
"If you were able to see us up in Santa Barbara Harbor recently, you saw that we can spin around on a dime," said Commanding Officer Brian P. Sparks, referring to the ship's sail-by near Stearns Wharf on Monday. Alongside its nimbleness, the ship has three different core weapons systems to counter multiple different potential threats.
Executive Officer Paul Richardson, who was one of the ship's first crew members, explained that they're getting the crew ready to deploy next year, but the ship is available for tasking at any point. Some of the LCS-32's sister ships are already deployed in the South China Sea and off the coast of Bengal.
To wrap up his speech, Mayor Rowse proclaimed April 1, 2023, as "USS Santa Barbara Day" in the City of Santa Barbara. "May this proclamation serve as a reminder that, from this day forward, every crew member of the USS Santa Barbara will be recognized and welcome as honorary members of the Santa Barbara community."
This story was originally published by the Santa Barbara Independent on April 3, 2023.
Issues: 118th Congress, Defense, Local Issues, National Security