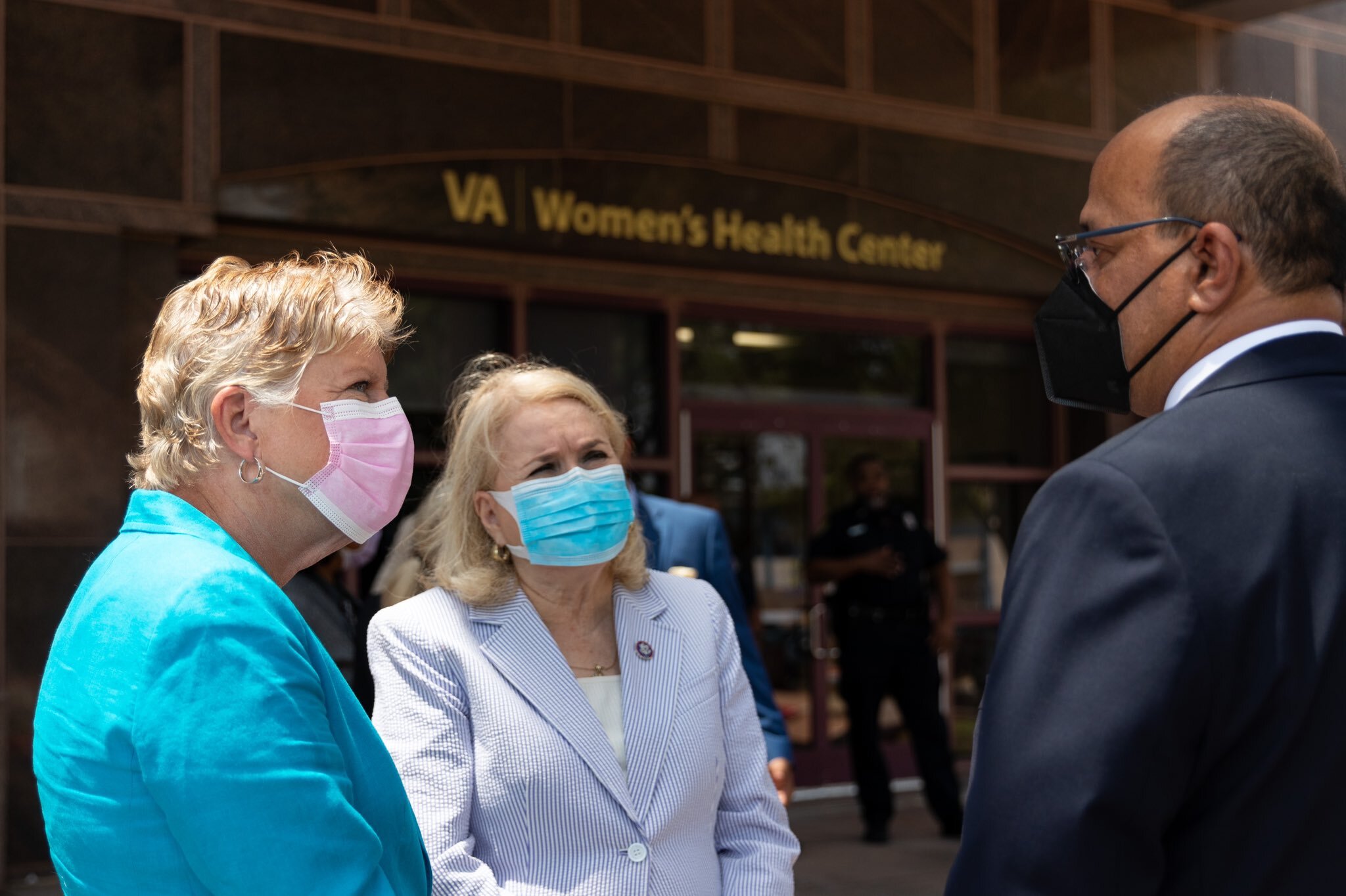 Sara Samora | Stars and Stripes
The Department of Veterans Affairs should train all employees in implementing the agency's new abortion guidelines to ensure female veterans are provided proper health care and safety, according to a new report from Democrats on the House Veterans' Affairs Committee.
"More than 2 million living women veterans have fought for and defended our country's core founding principle: freedom," said Rep. Mark Takano, D-Calif., chairman of the House Veterans' Affairs Committee. "It is why they served, and it is why they continue to serve in greater numbers than ever before. There is no doubt women veterans deserve our nation's gratitude and appreciation, but more importantly, they deserve access to the comprehensive health care and benefits they've earned, including reproductive health care."
The report, which was released Monday, includes findings from site visits between Aug. 8 and Sept. 8 to VA medical centers in Texas, Oklahoma, Arizona, and Nevada by Takano and Rep. Julia Brownley, D-Calif., chairwoman of the House VA subcommittee on health and the Women Veterans Taskforce.
Democrats on the committee chose the VA medical facilities because they are in states with varying access to abortions. Oklahoma and Texas were among the states that banned or severely restricted access to abortion services in the wake of the U.S. Supreme Court's decision in June to overturn Roe v. Wade, which had guaranteed a federal right to abortion for nearly 50 years.
Yet in September, the VA released a regulation that authorizes all its medical facilities to provide veterans and beneficiaries of child-bearing age access to abortion counseling and the procedure in special cases such as rape, incest, and if the veteran's life is at risk.
Moreover, VA Secretary Denis McDonough told lawmakers at a Senate Veterans' Affairs Committee hearing in September that the VA requested and received an opinion from the Department of Justice's Office of Legal Counsel that states the VA's regulation on access to reproductive health services is a lawful exercise of the agency's authority.
States cannot impose criminal or civil liability on VA employees, including doctors, nurses or administrative staff, who provide or facilitate abortions or related services in a manner authorized by federal law, according to the DOJ's Office of Legal Counsel opinion.
However, during the lawmakers' visits, the House VA Committee and staff members found some VA leaders and employees were not properly informed about existing VA policies regarding reproductive health care, such as the VA's maternity care directive.
The report also found some VA leaders and staff could not answer questions regarding abortion care.
According to the report, some clinical staff said they were concerned and feared whether they would be protected from getting their licenses to practice revoked or suspended, which could prohibit or limit them from practicing within their respective state and be included on their license records. They also had concerns about whether the VA would defend them in civil or criminal lawsuits related to providing abortions to veterans. Moreover, VA staff told the committee members that there was a strong demand for more detailed and state-specific guidance from the VA's central office in Washington, D.C.
Committee Democrats recommended the VA distribute guidance for clinical employees who provide abortion care about their protections. They also recommend the VA communicate with employees involved in providing abortion services about how they will be protected from licensure or law enforcement actions.
In June, U.S. Attorney General Merrick Garland said federal employees who performed abortions in the capacity of their federal employment would not violate the Assimilative Crimes Act, a law that allows state law to apply to conduct that occurs on federal land or property when the act or omission is not made punishable by federal law.
However, the overlapping of federal and state laws has made law enforcement status unclear and has VA medical facilities uncertain of how employees or veterans could be targeted by local or state authorities wanting to enforce the state's laws on abortion, according to the report. State and local law enforcement are allowed on VA property with a legal arrest warrant under the Assimilative Crimes Act.
VA police chiefs said they believe it is unlikely local law enforcement would show up unannounced to make arrests, according to the report.
House committee Democrats recommended the VA's Office of General Counsel should compile an inventory of law enforcement authority status at each VA medical facility, and adapt to the state's abortion laws and agreements with state and local law enforcement.
"Given the rapidly evolving legal landscape, the [VA] should proactively create a centralized repository of information that will help it prepare for any attempted enforcement of state criminal or civil penalties against VA patients, employees, or visitors," according to the report.
"Since issuance of the interim rule in September, VA's health care team has been working hard on implementation in order to ensure the health and safety of pregnant veterans," the VA said in a prepared statement. "The [VA] has received the House Committee on Veterans' Affairs report by the [Democratic] staff."
In August, the House Veterans' Affairs Committee announced it had begun a new initiative to focus on veterans' reproductive health care. Brownley leads the initiative.
This story was originally published by Stars and Stripes on November 9, 2022.
Issues: 117th Congress, Healthcare, Veterans' Affairs, Women Veterans Task Force