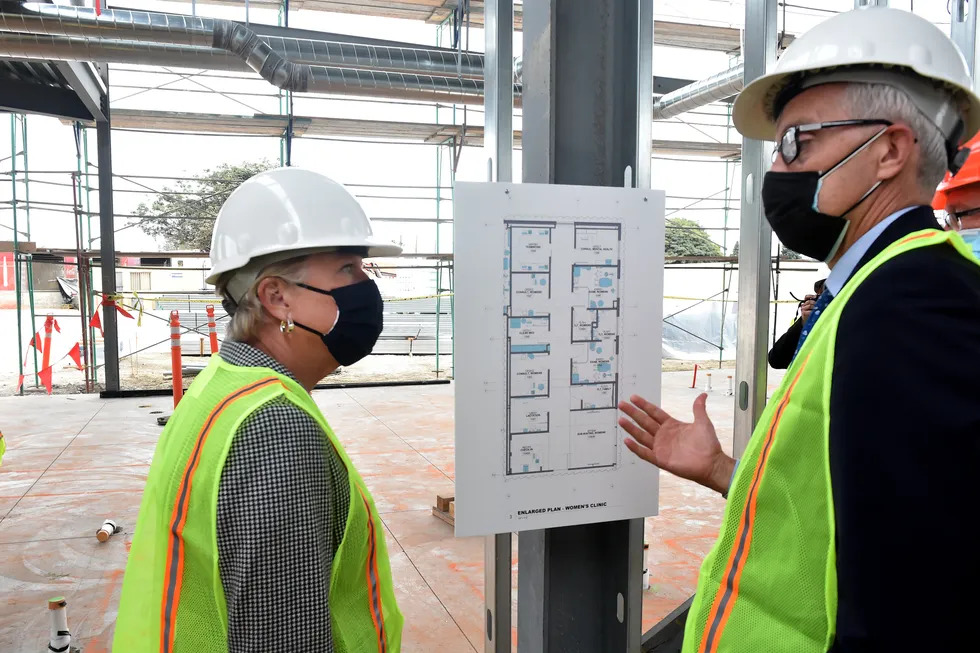 Tom Kisken | Ventura County Star
When Army veteran Debora Ehrich needs a doctor, she often drives down the Pacific Coast Highway to a VA hospital in West Los Angeles, pulling to the side of road if hit by one of the recurring flashbacks brought by post-traumatic stress disorder.
"I start reliving the emotions I felt," she said of being sexually assaulted by a service member outside an Army base in December 1971. The experience is even worse on the 101 where the bumper-to-bumper traffic acts as a trigger.
"I feel like I'm trapped like I was during the traumatic event," she said.
The difficult trips may end soon. Officials said Thursday that construction on a 50,000-square-foot Veterans Affairs clinic in Ventura is almost complete, and the facility many veterans say will allow them to get more care closer to home should finally open in early September.
"It will definitely be a blessing not to have to go so far," said Ehrich who lives in Port Hueneme. "It's way overdue for this area to get a clinic this size. We have over 40,000 veterans."
The new clinic sits off Highway 101 on an 8-acre site that was once home to the Ventura County Star. It is expected to treat nearly double the number of veterans being seen at the Oxnard VA clinic it will replace. The clinic will also provide more specialized care and bring the region's first dedicated women's unit with its own entrance.
The Oxnard clinic is much smaller than the new facility and is run by STG International, a private health care group that contracts with the VA. The Ventura clinic will be run and staffed by the VA.
Veterans and their advocates have long pushed for a bigger clinic run by the VA, contending the changes will improve care, resolve at least some of the staffing shortages that have long marked the Oxnard clinic and reduce trips to VA facilities far from home.
"It's going to be a huge improvement," said Joe Richardson, co-founder of the Vietnam Veterans of Ventura County. "It's something we really have wanted and needed for a long time, and it's finally almost here."
The old newspaper building on the site at 5250 Ralston St. was demolished and replaced by what the VA calls a state-of-the-art structure surrounded by a massive parking lot. Construction is about 90% complete and the Molasky Group development company will turn over the facility to the VA Greater Los Angeles Healthcare System in June.
Care will start about three months later, or about a year after original projections, said Robert Merchant, executive director of ambulatory care services for the health system.
When the site opens, the Oxnard clinic will close. Its mental health providers already work for the VA and will automatically transfer to the new clinic. But the balance of the clinic's employees work for STG International. Their future appears, at best, uncertain.
Merchant said they were told in a virtual town hall meeting on Wednesday they can apply to the VA for positions with the new clinic but will go through the same process as other applicants. The change from a contracted clinic to a site run by the VA means there is no guarantee of a job.
Any layoffs and severance payments will be handled by STG International, Merchant said. Company officials did not respond to interview requests. Employees at the Oxnard clinic also declined to comment.
"There are obviously some emotions involved. There are some folks who have been working there for some time," Merchant said. "We are moving to a different model, and it does require us to make some decisions and I know that's a tough process."
The new clinic will be staffed by about 130 workers, including eight primary care physicians. The staffing challenges at the Oxnard clinic sometimes left it short of its allocation of six primary care providers.
Congress approved the plan for a new clinic in 2017 in legislation authored by U.S. Rep. Julia Brownley, D-Westlake Village, who has long lobbied for the facility. In a written statement Thursday, she noted the new facility is seven times larger than the regional clinic used for VA care when she was elected a decade ago.
"The new facility is a huge win for our veterans," she said.
Brownley said she'll introduce a bill to name the new clinic for the late Navy Capt. Rosemary Bryant Mariner. The trailblazing pilot who grew up in San Diego became the first woman to command an operational air squadron in 1990 at Ventura County's Naval Air Station Point Mugu.
Mariner died three years ago from ovarian cancer. She was 65. Navy pilots flew in formation at her funeral in the first all-female flyover. Brownley said Mariner's name was selected for the new clinic by a panel of local veterans, service members and community leaders.
The VA will pay $3.7 million a year on a 20-year property lease for the new clinic. They also gave the land owners $9.7 million to develop the site.
The clinic will offer primary and specialty care, including podiatry, cardiology, dentistry, audiology and imaging. There will be mental health care, treatment for military sexual trauma and an area dedicated to helping homeless veterans. One care program will provide care to veterans in their homes.
One area of the site will be dedicated to women's care with its own separate entrance, creating what some veterans described as a safe space and a sign of respect.
"I think it's a very big deal. For a very long time, women's veterans have been invisible," Ehrich said. "Women weren't really recognized."
Primary care will be handled differently at the clinic, Merchant said. Patients will be brought into one examination room and then receive all their care in one place, rather than shuttling from one room to another.
He said more information about the new clinic will be sent to veterans as the opening draws nearer with appointment reminder cards used to ensure patients head to the right site.
This story originally appeared in the Ventura County Star on April 30, 2022.