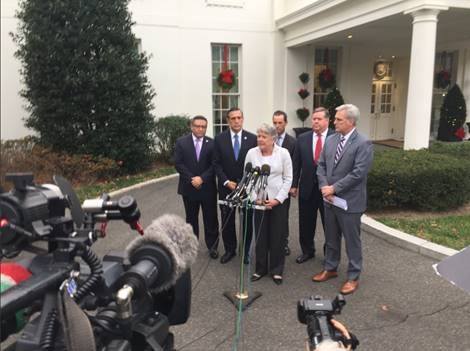 By Sarah Wire of the Los Angeles Times
A handful of California representatives discussed the federal response to their state's wildfires Tuesday with Vice President Mike Pence.
Attending the West Wing meeting were House Majority Leader Kevin McCarthy (R-Bakersfield) and Reps. Ken Calvert (R-Corona), Darrell Issa (R-Vista), Julia Brownley (D-Westlake Village), Steve Knight (R-Palmdale) and Salud Carbajal (D-Santa Barbara).
"It was a very bipartisan-spirited meeting. He clearly understood the significance of the fires and the impacts," Brownley said after the meeting. She said Pence offered federal assistance and "recognized that recovery was going to be very important and that we want to work together to make sure that we can get the resources needed."
President Trump signed an emergency declaration for the Southern California fires last week. Pence visited California this fall to view fire damage in Northern California.
"He stayed engaged and specifically wanted to make sure that FEMA and the other organizations were continuing to meet or exceed all expectations," Issa said after the meeting. "We mostly thanked him for the fact that he's taken a personal interest and his team has been at the heart of the domestic coordination."
There was no discussion about reinstating a federal tax deduction for uninsured damage repairs that would end up in the House and Senate tax bills, Brownley said.
"If you can't deduct uninsured property loss, it's devastating. It would be devastating," Brownley said.