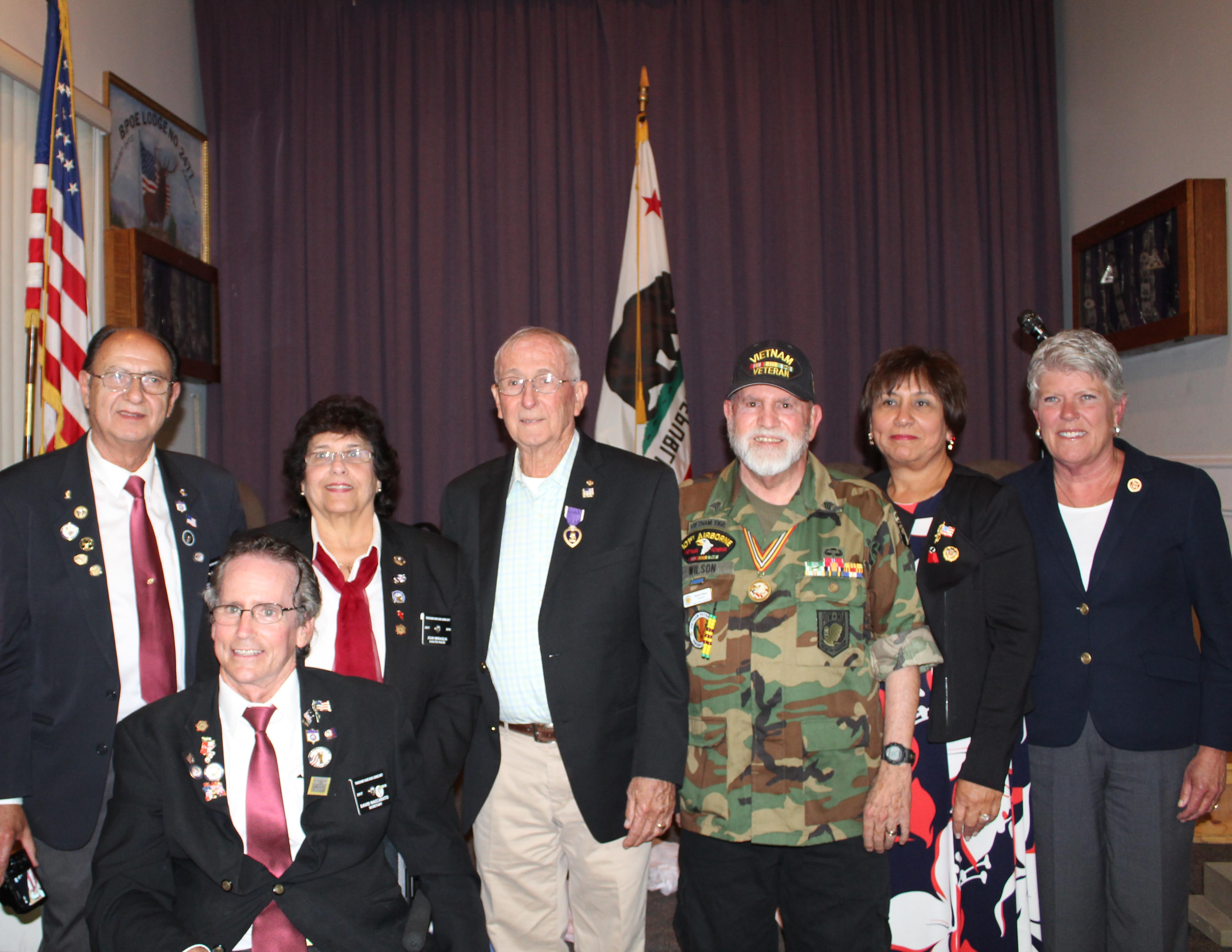 By Cheri Carlson Originally Appeared in Ventura County Star
David Stull stood in the front of a packed hall, a Purple Heart medal awarded nearly five decades after he came home from war pinned on his jacket lapel.
Dozens of people were on their feet, clapping, cheering and whistling.
When the room quieted down, Stull, 76, thanked his wife and told the crowd: "You know, if we would have had a welcome like this when we got home …"
More applause drowned out the rest of his words.
Stull came home from Vietnam in 1969, and the shrapnel embedded in his right arm was a permanent reminder of being wounded in action.
But decades passed before the country dug out the records, corrected the paperwork and awarded him the medal – as well as eight other commendations – for his military service.
During those years, Stull said he never thought much about the medals. Until recently, he never talked about the war.
But seeking medical care at the Veterans Administration started the process of getting his paperwork straightened out.
Somewhere along the line, someone asked him if he had been wounded. He said yes, and they said: Well, where was your Purple Heart?
Some of the men in his platoon wrote letters, and Stull even had an X-ray of his arm to show the metal that's left there.
Last week, Stull thanked Congresswoman Julia Brownley and her office for helping him get his records together. He thanked the Thousand Oaks Elks Lodge, where he stood that night, and the friends who surrounded him.
"It was my honor to serve my country and to serve you," he said.
'Night after night'
Stull flew to Vietnam in 1968.
He had raced motorcycles in Europe for six years but was back home in Pasadena during the off-season when he was drafted.
Stull, who turned 26 in basic training, completed the Noncommissioned Officer Academy before flying to Vietnam. He touched down in the war as a sergeant in the infantry.
Just days later, his first night in the field ended in an unexpected firefight.
"You just lay down and shoot in a certain direction and hopefully one of their bullets doesn't have your name on it," Stull said.
That night he thought to himself: This is it. A whole year here, he would never make it home.
"This happened night after night," he said.
Coming home
David Stull doesn't ever remember thinking he would make it back alive.
But after a year in Vietnam, he boarded a plane bound for California, and then a different sort of battle started.
In the airport, he remembers getting yelled at and called names. He also remembers the culture shock.
"They never said, 'You don't do this anymore.' You're fighting one day and you're walking the streets the next day — after a whole year of that," Stull said.
People told him he had changed, but he didn't know what they meant.
"You're just not sure. You're lost," he said.
For years, he tried to bury everything about Vietnam.
He got hired and fired a few times, married and divorced, and after awhile, he went back to school and became a mechanical engineer.
After his first marriage ended, he moved to Thousand Oaks to be closer to his parents, who lived in Camarillo at the time.
Then, about 34 years ago, he met Jessica. They have been married for 26 years.
David still never talked about the war, but a reunion in 2008 started to change that.
He had turned down invitations year after year. But that year, Jessica Stull persuaded him to go.
Some of his old buddies were waiting for him in the lobby of the Colorado hotel when the Stulls arrived.
"The feeling is unexplainable, because it just sort of takes your breath," David said about seeing them again. "It all comes back instantly."
Jessica remembers everyone sitting around a table later that night making small talk when one of the other guys arrived and walked into the room. David said he knew him at a glance.
They hugged – "and they didn't let go," Jessica said.
"It's hard to explain. It really is," David said, sitting in his Thousand Oaks home recently and talking about what he felt that night in Colorado.
"So much time had been wasted and gone by. We could have done this years before."
'Lou, is that you?'
Mike Delahunty, now 69, thought the same thing.
He was 18 when he got to Vietnam weeks after Stull. When he came home, Delahunty also never talked about the war.
He worked at a phone company for 40 years and only a few people, if that, knew he had been in the service, he said.
One day about 12 years ago, his phone rang.
"The moment I picked up and he started talking, I said: 'Lou, is that you?'"
In Virginia, Lewis "Loupie" Francis had spent a day flipping through old photos from Vietnam. He needed to find those guys from those old black-and-white pictures, he said.
His wife started hunting online, and Francis, now 73, picked up the phone.
Soon he was inviting the guys from Charlie company to reunions.
For some, like David Stull, it was a hard sell at first.
"It's not what you expect. If you go there, and it's guys that you were with (in Vietnam) and you see them, your whole life will change – at least it affected mine," Delahunty said.
They can talk about things with each other that they could never talk about to anyone else.
"It's seeing a long-lost brother. These guys meant everything to you in the world when you were over there," he said. "You depended on each other over there."
Francis said if he had known all along how it would have helped to get back in touch, he would have done it on Day 1.
"We wasted 40 years," he said.
Francis still calls some of the guys from their company every year. Some still say they won't make it, not this time.
"And I say, 'Well, you know it's been 40 years, we ain't got 40 years left for you to make it to one," he said.
Handwritten records
Years after they were married, Jessica started to put together the pieces and realized David had symptoms of post-traumatic stress disorder.
She was in graduate school getting her master's degree to become a marriage and family therapist.
It would be a little while longer before she broached the subject with David and eventually persuaded him to see a doctor.
He was far from alone.
A study in the late 1980s found about 15 percent of all Vietnam veterans were diagnosed with PTSD at the time. Closer to 30 percent would have PTSD some time in their life.
To receive medical care, the Stulls started trying to get David's eligibility worked out. That meant getting his 40-year-old discharge paperwork corrected, a process that wasn't simple or quick.
That's not unusual either. Paperwork frequently had errors or missing information, said David Wilson, president of the Vietnam Veterans of Ventura County.
"When we were at war in the 1960s, everything was handwritten, put in boxes, sent back to the United States and put in the archives," Stull said.
So getting someone down there to find them, read them, and get them out, took a long time.
The Stulls had help from Brownley's office but the process still took years.
They didn't give up, and he found a doctor at the VA who has helped a lot, they said.
The medals came after his discharge papers were corrected.
'My hero'
On Wednesday, about 160 people crowded around tables decorated in red, white and blue.
Wilson read a proclamation as Brownley, D-Westlake Village, pinned the Purple Heart on Stull's jacket.
"I can't tell you how proud it makes me to be here today and to be part of this extraordinary ceremony for an extraordinary man who served our country," Brownley told the crowd.
After the ceremony, David Stull stood smiling as people lined up to shake his hand, share a word or a quick hug.
Someone posted photos on Facebook the next day. Delahunty saw them from his home in Illinois.
He clicked to add a comment: "My hero."
Issues: Veterans' Affairs