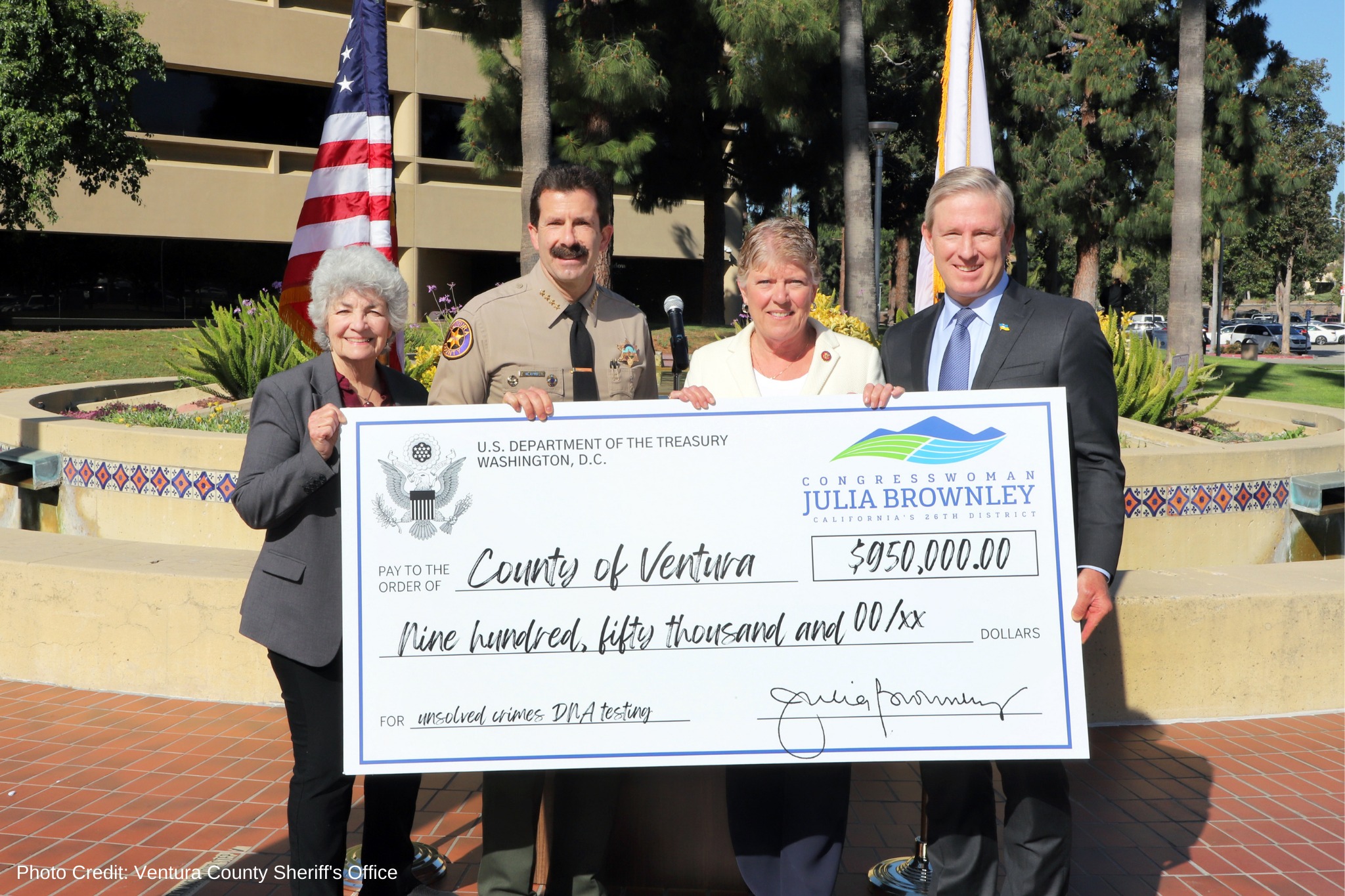 Ventura, CA – Today, Congresswoman Julia Brownley (D-CA) presented Ventura County District Attorney Erik Nasarenko and Ventura County Sheriff Bill Ayub with a check for $950,000 to expand efforts to investigate and prosecute backlogged violent and sexual assault cases through DNA technology. 
"Over the past year, I have worked closely with local government representatives in our community to advocate for highly qualified projects of importance here in Ventura County – and I am very pleased that we successfully obtained $950,000 for the Ventura County Cold Case and Sexual Assault Investigation project," said Congresswoman Julia Brownley.
"With this federal funding, the Ventura County Sheriff's Office, Forensic Services Bureau, Major Crimes Unit, and the Ventura County District Attorney's Office will be able to expand their joint specialized unit that is dedicated to the investigation, laboratory analysis, and prosecution of backlogged violent and sexual assault cases that hold the promise of being solved through DNA technology.
"In Congress, I have always been a strong proponent of funds for local law enforcement, and I am so pleased that I had the opportunity to advocate for this important project, which will help bring criminals to justice, get violent offenders off our streets and put them behind bars, and help survivors and family members of crime victims to get some closure and some peace that they need.
"I am very thankful for the advocacy, leadership, and partnership of Sheriff Ayub and District Attorney Nazarenko, and their teams, who played a pivotal role in developing this specific project and bringing it to fruition.
"Ventura County is truly home to the world's best law enforcement officers, and I am so very grateful for all the work they do every single day to help keep our community safe and to make Ventura County the wonderful place it is to live, to work, and to raise a family," Brownley added. 
On March 9, 2022, Brownley announced the inclusion of nine community projects totaling $27 million in the Fiscal Year 2022 Consolidated Appropriations Act (H.R. 2471) that passed the House of Representatives by a 260-171-1 vote. The historic government funding package will help working families with the cost of living, create good-paying jobs, and make direct investments in community priorities throughout the country, such as bringing justice to sexual assault survivors by supporting law enforcement efforts to clear the backlog of DNA testing in Ventura County. President Biden signed the funding package on March 15, 2022.
More information on the other community funding projects Brownley secured for FY2022 can be found here. Photos from the event can be found here.
###
Issues: 117th Congress, Local Issues