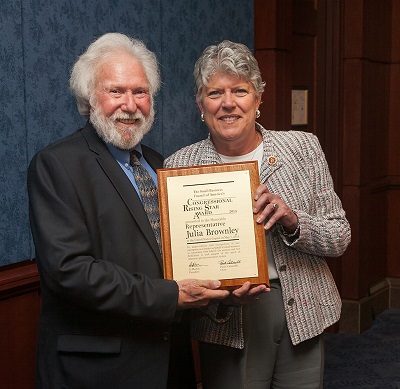 Washington, D.C. – Last night, Congresswoman Julia Brownley (D-Westlake Village) received the Small Business Council of America's (SBCA's) 2014 Congressional Rising Star Award in recognition of the strong leadership she has demonstrated in her first term in Congress and her efforts on behalf of small businesses, including her sponsorship of H.R. 3640, the Innovation, Research, and Manufacturing Act, which would expand and make permanent the research and development tax credit.
SBCA also singled out Congresswoman Brownley's reasoned approach to governance and her dedication, not only to her constituents, but to the entire country.
"I am honored to receive this award from the Small Business Council of America," said Congresswoman Brownley. "Small businesses are the engines of our economy, critical to building a strong middle class, and essential to achieving the American Dream for tens of millions of Americans. Ventura County thrives, and its character is created by, the contribution of its diverse small businesses. When it comes to creating jobs, cutting red tape, and reforming the tax code, I will continue to be an advocate for small business in Ventura County and across the country."
"During her first term in Congress, Congresswoman Brownley has already demonstrated herself to be a strong leader who is committed to America's small businesses and not afraid to take on the difficult issues," said SBCA's Chair, Paula Calimafde.
Senators Susan Collins (R-Maine) and Mark Pryor (D-Ark.), and Congressmen Richard Neal (D-Mass.) and Sam Graves (R-Mo.) were also honored as SBCA Congressional Award winners this year at its 31st annual Congressional Awards Reception.
SBCA is a national nonprofit organization that has represented the interests of privately-held and family-owned businesses on federal tax, health care, and employee benefit matters since 1979.